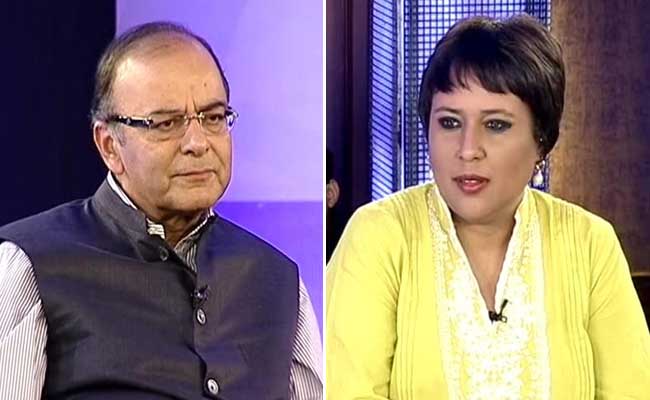 NDTV
: Hello and welcome to the Townhall, our special programme where we bring big newsmakers face to face with a young, live audience as well as questions from eminent citizens from different walks of life. Our guest on the Townhall today is easily the most influential, and some would say the most competent and powerful minister in the Modi government, holding three key portfolios. He is also somebody who in many ways is seen to be the most media friendly face of the government. Taking your questions on the Townhall today, lets please welcome, with a big round of applause, Arun Jaitley, Finance Minister, Corporate Affairs Minister and of course Information and Broadcasting Minister as well. Welcome to the Townhall Mr Jaitley. I should say while introducing him that he is that rare politician who is not just open to questions, but also enjoys both a good debate and a good joke and we do wish that more of our politicians were able to embrace wit as a tool of politics. Let me start by asking you... you are close to almost completing one year in government, what would you pick out as a stand out achievement beyond atmospherics, beyond the psychological sense of shift, which you may call optimism or expectation? What has biggest achievement of this government been so far?
Arun Jaitley
: I think the most important challenge was to get India back onto the track. And therefore the last ten, eleven months, if I may say so, has been an exercise in which you had to clean up the desk. There were a lot of terrible legacy issues, there were a large number of decisions which you had to take, which has to make the economy grow and put it on a road map for a faster decision making and to determine that track. And if I look back today, I can get some satisfaction. For instance, take a simple decision, which was pending for years altogether, how are natural resources to be allocated? Something that did the worst damage to the UPA government, whether it was spectrum or it was mineral or it was coal. Now it's a very easy decision to take. Anyone of our young friends here would say why have government discretion? Why should somebody come to me? You just sit on your laptop and bid, whoever bids the highest or the lowest, depending on what the auction terms are, gets the natural resource in accordance to the government policy and you get much more money. Now this establishes the credibility of the decision-making. Now take the pace of decisions. Our Armed Forces have been under equipped. For almost a decade we've been saying which one of the aircraft to buy for the Armed Forces? So you've had this whole dispute pending and then the details are being worked out, the government had to be decisive. We are going for the Rafale because we'd earlier picked it up and short-listed it.
NDTV
: But it's become a big point of controversy, I'm glad you brought it up yourself because there are many people, defence experts, who are questioning why we should go in for Rafale when it costs clearly more, why this government is departing from the previous government that had misgivings about the deal. What is the reason? Is it more a decision of diplomacy to please the French?
Arun Jaitley
: No. I think you'd already taken a decision earlier, even the last government had taken a decision and you'd zeroed in on Rafale through a tendering process. Now the negotiation of the terms process was on and that's something, which was taking a lot of time. In the meanwhile you are becoming a weaker state, your defence forces, and you are not living in the best of neighborhood. So are we a country, which can afford to say, it's not like how much FDI in insurance. It took you 10 years to decide how much FDI in insurance, it takes you ten years to decide which aircraft to provide to your fighter pilots, therefore a large Nation state like India can't survive on this pace of decision making, therefore, you had to come out with a clear decision.
NDTV
: So you are saying that the Rafale deal is a sign of political decisiveness?
Arun Jaitley
: I think it's a sign of political decisiveness.
NDTV
: But isn't it true that as Defence Minister, when you were holding the portfolio, you were not entirely convinced of the deal, you wanted to scale it down?
Arun Jaitley
: No, that's actually not correct. The previous government had short-listed this aircraft, the negotiation between our arms experts and the French, on the terms and conditions process, was on. The government now seems to have decided to take a decision on a government-to-government basis.
NDTV
: .One of the criticisms has also been that this government's slogan was 'Make in India' and when you're picking up jets that have actually been made in France, that Paris has actually beaten the 'Make in India' motto, these are not jets that are being assembled even partially in India.
Arun Jaitley
: Yes I can make in India the Rafale jets after 20 years but that doesn't mean I keep the army ill equipped for the next 20 years.
NDTV
: But why choose the more expensive option? I think that's coming up again and again, why the more expensive option?
Arun Jaitley
: You see probably you charge more than a normal journalist, so cheapest is not necessarily the best.
NDTV
: I wish I charged a little more than I do.
Arun Jaitley
: You see there are areas like defence where the cheapest is not necessarily the best. You have to look in terms of the entire quality of your model. You see for instance, when you talk of the 'Make in India', now you said this, my first decision as a Defence Minister, the portfolio I handled for 5 months was, I increased the FDI in defence to 49%. In Mr. Vajpayee's government we had made it 26%, now 49%. In selective cases we can even go higher than that. Now look at the advantage of that. We can buy 100% of our defence equipment from foreign companies, foreign governments, companies owned by foreign government. But somehow the last government had a blockade. We won't manufacture in India, with a 51% Indian control. So they were not allowing them. Now in the first four weeks I announced this decision and now you have joint ventures of Indian companies where the Tatas, the Mahindras and several others, I am told that the ADAG group has now got into the defence port, shipyard sector, they are all getting into this defence manufacturing, at least the top layer Indian companies are, with 49% international partners who are transferring technology to them. 10 years down the road, I've also given option to the HAL and others, that you also go and join Hindustan Aeronauticals, have foreign partners. In fact one of the earlier decisions I took was, for some contracts the public sector can't build, they said why? I said because I want the private sector capacity to be also built up in India. Therefore helicopters, aircrafts are required, these are all been simultaneously given and that's an activity, which we've started on the ground.
NDTV
: Since we have live audience here, let's start taking questions. Geetika Srivastav where are you? Geetika please stand and ask your question.
Geetika
: Good Afternoon Sir. Sir, my question to you is that recently the government has been prompted to set up an 8-member committee to decide future interest rates. Is the government unhappy with the way interest rates are being set right now?
NDTV
: Are you unhappy with Raghuram Rajan? I think that's effectively her question.
Arun Jaitley
: Well I am neither unhappy with the Reserve Bank, in fact the Prime Minister and I both went to the recent anniversary function of the Reserve Bank where we praised the Bank. The Prime Minister has very nice things to say about the Governor also.
NDTV
: But they are hardly going to be rude about him on record?
Arun Jaitley: No.
NDTV
: But isn't it true that there is a disagreement? You can call it a healthy disagreement but there is a disagreement on interest rates?
Arun Jaitley
: You see according to me, between two institutions, there being conflicting opinions, there is nothing wrong in it. Between the judiciary and the government, a former Chief Justice once made a very interesting comment and said, some tensions are even good for the system. If you agree on everything, it'll be a terrible system to have because everything the government does, the Supreme Court agrees on. Everything the Supreme Court does, the government agrees with, that's not how systems run. You can have difference of opinions. Now there are evolving opinions world over on the role of the Central Bank. I think the Reserve Bank in India has done a great job. Now the different opinions are there in some areas. How is the monetary policy decided? Is there a committee? What is the level of concentration with the government? Who does the public debt management? For instance we have, I had announced that the public debt management, slowly would shift to the government. Now except in Russia, China and a few countries, it's entirely shifted to the government from the Central Bank. In fact the Raghuram Rajan Committee report said - when he was in the Ministry of Finance - that there is a conflict of interest in the Reserve Bank managing it. Now these are not issues of any personal disagreement, these are issues on which institutional structures have to evolve. Now should they be surgically cut out or should they evolve over a period of time? Now I've been having a lot of meetings and discussions with the RBI Governor, the officers have been having it and wait for a few days when the Finance Bill comes up for discussion, you'll find that there is not too many gray areas in this. The differences have been, these are conflicting view points which experts have. In fact Dr Rajan had a view when he was in the ministry, he has another view, he's now seeing the other side in the Bank itself and certainly there is no difference in terms of personality issues, and even this strength of democracy is that we converge to opposition. But then my position very clearly is not very different from the Reserve Bank. We need to manage inflation along with growth. Now we can't afford to have inflation go up radically, so the Reserve Bank is a little conservative and they try and manage the inflation. So they are a little careful in lowering the interest rates. I want the interest rates to be lowered a lot more. But they balance inflation with growth. Now if interest rates, which have gone down slightly, the process has started, go down a little more, you'll find it easy to take a loan for your education, you'll find it easy to take a loan for buying you car, your house etc. So these sales will go up, the economic activity will go up and that pushes up growth. So I would like the interest rates to go down. But I don't want inflation to go to the sky, so that has to be balanced.
NDTV
: Okay, so that is the dichotomy. Okay next question is coming from Prashant, why don't you ask your question?
Prashant
: Good Evening Sir. Sir, throughout your tenure as whether the Finance Minister or as the Leader of Opposition in Rajya Sabha, you've always maintained this idea and I'm going to quote you that, "India requires an internationally compatible and a non adversarial tax regime." Given that, how do you reconcile with the kind of tax demands that are being raised, whether it's Cairn Energy and the controversies that are surrounding it or to Nokia's Chennai plant which is hauled up for the same?
Arun Jaitley
: I have recently made a comment at the Confederation of Indian Industry (CII) function with regard to tax terrorism and this is a phrase that I had coined when I was in Opposition
NDTV
: And now is the phrase continuously used for your government?
Arun Jaitley
: No it doesn't get used for my government and I'll tell you the difference, I had coined it when retrospective taxation was brought and I though retrospective taxation was a terrible idea. It was a defining moment against India. And foreign investors started looking at India with suspicion, tax stability came to an end. Now in the last one year we have not got a retrospective law, not a single new notice has been issued. My only problem is with regard to legacy issues, what are inherited from the previous government.
NDTV
: But you've changed other things that the previous governments have done like the Land Ordinance, so why get so attached to the Vodafone and retrospective taxes?
Arun Jaitley
: No, there is a difference in this and I'll explain the difference. So in the Cairn Energy case, it's a notice, which was issued in January 2014, where an assessment order has been passed, they've said that they are intending to challenge it. Similarly in Shell; in Vodafone too, the second Vodafone case, notices were issued by the previous government and some absurd assessments were passed. The Bombay High Court has struck down these demands. I took the decision to the Cabinet and we decided, we accept the Bombay High Court judgement, so that I can put that issue to sleep. So those issues are all over. The Cairn issue seems to be the only live one, which they are entitled to challenge in court. We'll see what the courts decide. Now there is a third issue, and that's why the answer to your question, why I didn't challenge it. You see there was a law, which was brought by the previous government, some minimum alternate tax on foreign institutional investors, the FIIs, went to a tribunal, which is called the Advanced Ruling Authority. They got a judgement against themselves. So the tribunal has decided against them. The amount involved is Rs 40,000 crore. I can change the face of India's irrigation with that 40,000 crores. Now having lost the case they come up and say for the future it won't be possible to do business in India if this tax remains. So with effect from 1st April 2015 I've abolished that. Now they expected this as terrorism, please waive off our existing demands, to which I responded, I said, we are reasonable. So for the future I've waived it off, but the tax demands of previous, after winning the case, if I waive off, we are then like a tax haven.
NDTV
: So you've said repeatedly that we are neither tax terrorists nor a tax haven
Arun Jaitley
: So therefore if you lose a case, now how would I be answerable to Parliament that after winning a case, I just waive off 40,000 crores?
NDTV
: But Mr Jaitley the image of the tax department remains a concern and let's bring up Harish Salve, one of our pre-eminent legal voices, who has a question for Arun Jaitley
Harish Salve
: The question I have for the Finance Minister, not only is he an astute Finance Minister but also an esteemed colleague, is that what are the concrete steps he has in mind by which he can reform the image of the income tax department? It's no secret that foreign investors and Indian business people are not scared of the Indian law. There is nothing also to be that scared of the black money law which is coming in, because for most it is a reflection of what laws will be in the world, once the foreign accounts tax compliance laws are in place. What petrifies people about India is not the law, but those who will enforce these laws? That image needs serious correction and we have to take our tax department from being aggressors and oppressors to being collaborators, who are assessing the accounts of a partnership between the citizen and the state.
Arun Jaitley
: I'll just tell you what in the last 10 months I've endeavored to do. I've put the retrospective tax issues to sleep.
NDTV
: Yet the one from the past remains alive.
Arun Jaitley
: The legacy issues will remain. Now the sins committed by the previous government which I have inherited, I'm trying through the judicial process to have them sorted out, one. Two, I'm now trying to simplify India's indirect taxes through the most important tax reforms since Independence. In the coming session of Parliament I am going to get approved the Constitution amendment on the Goods and Services Tax
NDTV
: But do you believe it will go through in the Rajya Sabha? You have seen the Opposition uniting against several of your policies. You don't have the numbers in the Rajya Sabha.
Arun Jaitley
: This concerns the states and almost all states are allied
NDTV
: So you believe the Goods and Services Tax (GST) will go through this Parliament session?
Arun Jaitley
: I am reasonably hopeful it'll go through. Because what's the law? GST has a capacity to push India's GDP by at least one and a half to two percent. Now Goods and Services Tax, once implemented with effect from 1st April 2016, which I'm planning to do after the Constitution amendment, I'll need three more laws, will be the most radical tax change where there is no discretion, the final price of the goods is known, evasion is checked, goods can be transferred, you won't have trucks at the border being stopped, you entering my state or entering my city.
NDTV
: And you believe the Congress, the Trinamool, and others will support you?
Arun Jaitley
: In fact Mamata Banerjee is very vocal in support of this. West Bengal is a consuming state. The consuming states are all going to benefit. So the tax component with each state will increase. Now that's one. Two, with regard to direct taxes, I've set up various simplification forums but I have not increased any direct tax, by and large, I've given middle class a lot of exemptions last year and this year.
NDTV:
Okay.
Arun Jaitley:
With regard to corporate taxes - and this impacts assessment - I've announced the most radical road map, that 30% plus surcharge 4%, 34%, in the next 4 years I make it 25%. So that when an investor invests in India, he realises that in India I can get 25% I have to pay as tax. Vietnam is charging much less, Indonesia is charging less
NDTV
: But you know, talking about investors, we have a question that you may want to hear. This is from Kiran Shaw, Kiran Mazumdar Shaw, of course one of our pre-eminent industrialists. Let's hear her question
Kiran Mazumdar Shaw
: For decades FIPB has been referred to as the Foreign Investment Prevention Board, so the question I have to ask you Mr Jaitley is, what steps and measures is your government taking to really dealing with these irritants and deterrents of bureaucratic processes that the FIPB is very often alleged to have in terms of anything and everything to do with foreign investment? And rather restrict it to only that which is really most important and let foreign investment then have an easy ride in the country. For example, does every IPO need the seal of approval from FIPB just because FIIs are involved?
Arun Jaitley:
You see every sector has its own sectoral caps, your media has a sectoral cap, every sector has a cap, and somebody has to see whether all the compliances take place or not.
NDTV
: Or whether the caps need to be changed?
Arun Jaitley
: Or the caps need to be changed. That's a second option, which is possible. Now there was an issue pending, for a long time, on account of this Mauritius route, between the revenue department and the FIPB and it had been pending for years. About 3 to 4 months ago, I called the meeting and I reconciled the two and I sorted all the issues out. As of last week, I checked up, there was no case except what's in the process on the FIPB agenda, not a single case was pending. Therefore they have a last meeting about...
NDTV
: Okay next question, let's move it along now. Aashima where are you? Let's bring her the mike please. Please stand and ask your question.
Aashima
: Good Evening Sir. My question to you is that when it comes to Land Acquisition Bill, there are concerns about it being anti-farmer and pro-corporate. Now in that scenario, does it not affect the food security of the country in the long run?
NDTV
: And, if I may add have you been forced on this issue by the Opposition because already we have seen some backpedaling? You have given in to some of their demands. You are willing to compromise. The truth of it is this is the one issue on which Sonia Gandhi seems to have managed to unite a disparate Opposition, a divided Opposition. Have you invested too much political capital in it? Did you make a political error of judgement in trying to pick a fight on a Bill that you yourself had supported when you were in the Opposition?
Arun Jaitley
: I can tell you, Sonia Gandhi's bill will keep India's rural area backward in perpetuity and I say that without fear of contradiction. Now you raised a question about India's food security. The earlier Land Acquisition Act came in 1894 and it was repealed in 2014. It remained in force for 120 years. Vast tracts of land were acquired. Inadequate compensation was paid. Let's forget the compensation. And India's food security didn't go down in a 120 years. In every year our food production went down. Food production doesn't merely depend on the volumes of land available. It also depends on the techniques you follow.
NDTV
: But if you believe in your amendments Mr Jaitley, why have you back peddled from them?
Arun Jaitley
: We have not back peddled. I'll just come to it. I have to make good the point that Sonia Gandhi's bill or Jairam Ramesh's bill was anti-farmer, I'll make that good. Now the 2013 law provided for some exemptions. Some areas where those complicated procedures won't apply. We were told with regard to rural areas they were going to make some exemptions, but they didn't do it. Now my question to you is, urban India is still more developed. Rural India what does it need? It needs irrigation, it needs rural road; it needs rural housing; it needs rural infrastructure. The 2000 Bill wants to condemn people living in the villages to their present condition and prevents their development. The Bill says you can't acquire land for irrigation. All irrigation projects across the country under that law will come to a standstill. You can't acquire that land for rural roads. So the 'Pradhan Mantri Gram Sadak Yojna' can as good as be abandoned under that law. You can't have land for rural electrification. Now, people in urban areas and this is an urban crowd, have some level of housing. It's people in villages who live in huts and therefore, if this 60% is going to migrate to urban, suburban areas, it's for them that housing for poor, affordable housing comes up. So this Bill of 2013 says you can't get land for housing for poor or affordable houses
NDTV
: But talk about the real political situation here, there is standoff in Parliament; you had to reissue the Ordinance.
Arun Jaitley:
Barkha at least in your programme I am not on slogan. Sonia Gandhi believes in slogans. Let's go beyond that. Now what does the 2015 Law say? It says for rural infrastructure you'll have a fast track method of acquisition. For housing for poor and affordable housing, affordable housing means an 800 sq ft house you'll have a fast track method. Two, two of the five exemptions, one is national security. So if the defence needs it or a nuclear programme needs it, that's acquirable. Now which is the fourth one? Urban areas still have infrastructure. It's rural India, which does not have infrastructure, so infrastructure, where the land vests in government. Which is the fifth one? It is extremely important and today we are recording this programme on Dr Ambedkar's birthday. Dr Ambedkar used to say that for the Dalits and the landless the best option is that their areas are industrialised. So this talks of industrial corridors, not industrial parks or hubs. So next to a highway or railway track you'll have a running corridor, a narrow corridor, half a kilometer or one kilometer. Suppose you have the Delhi-Mumbai industrial corridor; now on this 1,200 kms, you have a narrow corridor on the side. There are 300 million landless in this country. Where will they go for jobs? From the villages they come to these industries. The value of the rural land 20 km deep on both sides is enhanced. Now look at the amendments, I am afraid Mrs Gandhi may have not read the amendments herself. The amendment says for rural infrastructure land is needed, for housing for poor land is needed, for industrial corridors passing through rural areas land is needed and she stands up and says, I will oppose it. Therefore let's get the debate right in terms of hard economy. The 2015 law will help rural India. The 2013 law completely prevents the development of rural India.
NDTV
: Let me ask you a quick political question? Without the numbers in Rajya Sabha, are you willing to dilute your own amendments further? You've already made some changes?
Arun Jaitley:
If you come out with a good suggestion, I'm not going to stand on prestige.
NDTV
: But on the consent clause in particular which says 70% to 80% was required?
Arun Jaitley:
Just tell me if the Delhi-Mumbai corridor of 1,200 kms is to be made, land is acquired on both the sides for an industrial corridor and you want to say that realistically 1 lakh people will give consent? Now are we living in the real world? This is the power of eminent domain world over. It works in a particular manner.
NDTV
: So you are not willing to dilute this further?
Arun Jaitley:
Let's make it very clear. What's the Constitutional mechanism? You pass it in the Lok Sabha; you pass it in the Rajya Sabha. If the two houses disagree you take it to a joint session. Therefore the straight forward method is, if I'm convinced that I am going help rural India with these amendments and the 2013 law condemns the rural India to backwardness, that's what in my case is, then I am willing to go through the Constitutional process of how it is to be passed.
NDTV: Is the joint sitting being considered actively by the government to get the land ordinance?
Arun Jaitley
: Why should I, at this stage, reveal my cards? The fact is that there is, in a joint session, I'm in a majority, in the Lok Sabha I'm in a majority. So there is a Constitutional method.
NDTV
: So are you considering a joint sitting?
Arun Jaitley:
Listen... if the Congress, Congress was a liability for this country when it was in power, we saw what happened to the economy, if it wants to continue to be a liability when its in the Opposition, we'll fight that thought out.
NDTV
: Next question is coming from Kavya and we also have a question coming from Suhel Seth in just a moment from now. Kavya go ahead with your question.
Kavya
: Good Evening Sir, my question is that basically the BJP Minister Shyam Charan Gupta has gone on record to say that sugar should be banned because it causes diabetes and then he's on the BJP Parliamentary Board regarding tobacco and they've also gone on record to say that tobacco doesn't cause any harm. So what's the stand that the government is taking on this?
NDTV
: This is an embarrassment, these unscientific comments coming from...
Arun Jaitley
: First of all, he is not in the BJP Parliamentary Board. He is in the House panel. You see Barkha, let's be very, very clear. The level of understanding of the MPs also gets evolved. They come from all sections with all kinds of...
NDTV
: But should a minister be sitting on a House panel that's looking at his own interests?
Arun Jaitley
: This is a difficulty. This is a difficulty in the Parliament.
NDTV
: And it's happened in the Congress regime also. Praful Patel was on a GOM looking at Aviation.
Arun Jaitley:
You see I think we are making a little too much of it. The House Rules in this connection need to be changed. For instance I remember there was once a representative who was a top executive of a company, which dealt in a particular area, who was a Member of the House. Now he wanted to speak on a subject where the subject matter could have impacted on the business. The question was, can he speak or can he not speak? Now logically, to my sense, he should not speak, but then when we checked up the House Rules, the Chair ruled that all you have to do is that you can speak, but just disclose your interest. So the House Rules need to evolve.
NDTV
: But on the issue of the tobacco warning...
Arun Jaitley:
You see at least I am convinced. Let's be very clear, nobody is better bona fide than me, if, in my 2 budgets in 10 months, there is amongst the products whose manufacturers are not happy with me on both occasions and this has worked. This has reduced sales. Now the difficulty is, the logic is and I can understand from the young lady's question. You are being harsh on cigarettes, but why do you look the other way when it comes to beedis and things like this? Now my predecessor, Mr Chidambaram, once followed this advice and he taxed beedis. The whole of the Parliament rapped him and said that you are anti-poor and therefore he had to retract. Now these are the pitfalls.
NDTV:
And Sham Charan Gupta was a beedi baron and was not poor
Arun Jaitley: You see the whole House got up and said that you are anti-poor. Beedi is, for heaven's sake this is a scandal that you are taxing beedis. So Chidambaram had to retract and he said okay, tax on cigarettes and not on beedis. I was confronted with the same dilemma. So having seen the track what happened to him... I thought it is better to move where it is possible to move.
NDTV
: But Sir, Harshvardhan, who was your Health Minister, he wanted an over 80 percent space being given to pictorial warnings on cigarette packs. The fact is whatever Sham Charan Gupta or this House panel may say, that advice is not being followed. Why doesn't the government move on Harshvardhan's formula?
Arun Jaitley
: You see after all, the minister considered has made a statement. We are waiting for the Panel's report. Eventually it's the Cabinet that will decide and we must have; after all elected people are also responsible.
NDTV
: And have these BJP MPs embarrassed the government with their nonsensical statements?
Atun Jaitley
: I can tell you. You and your correspondents are also very clever. You go and trap only those who can give you some juicy bytes. The ones who give you sober bytes, you don't go and trap them
NDTV
: Well we hope the Members of Parliament are all sober. Maitri?
Maitri
: Sir my question to you is that, according to the government the Greenpeace India has violated the terms of the FCRA and hence the government has cancelled their licence for 6 months. Now they claim that 70 per cent of the income comes from ordinary citizens, and they believe that the government has cancelled their licence because they are working for a healthier and a cleaner environment and that's against the corporate interest. So what do you have to say on this?
Arun Jaitley: I don't know. I don't want to deal with individual cases because they are going to challenge it in Court, so I don't want to go into their activities. But as a principle I can tell you one fact. In a large number of cases we have to decide a question whether civil society activism also will have, for its own kind of fundamentalism, will have some kinds of rules or not? And I have certainly, in a speech suggested; you see if I contest elections I disclose my assets. If I become a minister I have to file my returns annually. Political parties have to now file their returns. We can be criticised; people can impute motives to us; therefore when civil society organisations function they are entitled to carry their own activities. They file PILs. They stop projects. They agitate against projects. RTI applies to us, not to them. But would it not be a healthy practice, that in the first paragraph of each petition, they also disclose their source of funding, so that we are able to know whether the a part of the activities are donor driven or, are they all inspired by public sphere?
NDTV
: But there is a perception Mr Jaitley that this government is not...
Arun Jaitley
: I'll give you an example. When I said this I was in Madhya Pradesh last week. The agriculture growth in Madhya Pradesh in the last two years has been 20 per cent each, which is unprecedented. It's unthinkable if a state in India grows at that rate. Kutch, in Gujarat, was starved of water. It's today got water and this is all because of the Narmada Project. But one of these organisations had filed a PIL against the Narmada project, had it delayed for a couple of years. Cost went up by a few thousand crores. So every petition may not be in the interest of the society at large. Such organisations should, in the first paragraph, tell the country that we are in public interest. This is my source of funding.
NDTV
: Okay nothing wrong with NGOs or activists disclosing the source of funding. But there is a perception building up that there is an intolerable sort of contempt for contrarian opinions or for contrary opinions. I'll cite an example. Indira Jaising, whom you know also from your legal fraternity, writes an op-ed in the Indian Express taking objection to the Prime Minister using the phrase 5-star activists. She also went so far and said that this is an attempt to intimidate the judiciary.
Arun Jaitley
: You see how is it an attempt to intimidate the judiciary? For instance I'll tell you, I don't know the context in which the Prime Minister mentions; I'll make good in a different context of the statement. One such NGO, who has a track record that in 1999 General Elections put a full page advertisement in The Times of India, the costliest paper and in large number of papers, don't vote for the BJP. So the NGO must tell us where it got the money from. This very NGO then filed petition after petition on Gujarat.
NDTV
: You are talking about Teesta Setalvad?
Arun Jaitley
: No let's not get into names. I am just giving you an example. Somebody must know. Money does not grow on trees for these NGOs. Thereafter doing all this there, is some investigation held at the behest of its own members who've fallen out saying that you've done something to the money. Money went for relief of victims, it's gone somewhere else. Some case is pending. You come up before a particular bench; you start an intimidatory process against the judges of the bench. Judges being honourable people say I don't want to hear this case, and therefore you go before another bench. Now in such a case and let's take a case, you've had a whole history of spending millions from election campaigns to PILs to various things and now there is an investigation pending. Now you literally want to choose your own judge and in a situation like this isn't it a legitimate comment to say tell us where you got your monies from?
NDTV
: But Sir, what does 5-star mean? Who are 5-star activists?
Arun Jaitley
: It's a matter of phraseology. I've used a slightly different phrase. I've said are you donor driven. Meaning of the two is broadly the same and you very well understand what donor driven means.
NDTV
: But talking about phrases Sir, why are we seeing this kind of hostility? The media's job is to be adversarial to any government to a healthy degree, but the kind of language that's being used for the media recently. You had bazaaru used in the PM's own speeches. You have presstitutes used by General VK Singh. Do you believe that this language as I & B Minister is kosher?
Arun Jaitley
: I think that the language must be an important balancing act for everybody, certainly politicians and also certainly the media. You can't have hashtags saying traitor. Therefore what holds good for the goose holds good for the gander. Don't get into a debate where we intend to lower the level of the debate where everybody who disagrees or has an alternative viewpoint is a traitor. Now you have seen it for yourself, therefore I think we need a sobering effect. India's democracy is very sound.
NDTV
: Should General VK Singh have used the word he did though?
Arun Jaitley:
I don't think he should have used it.
NDTV
: I don't agree with the channel's hashtag, I don't agree with what the channel...
Arun Jaitley: But I personally don't agree that he should have said that. I am of the opinion that at times even when media commits excesses it's better to look the other way.
NDTV
: Okay, let's take the next question from Suhel Seth, Suhel Seth with his question for Arun Jaitley.
Suhel Seth:
Mr Jaitley Narendra Modi and you have been working tirelessly for almost ten and a half months now. The mood of the nation has turned for better, but why can't you control some of the dolts around you, who continue to hijack the main agenda? I mean from Ghar Vapsi to Beef Ban to Marathi cinema to the venerably bright Giriraj (Giriraj Singh) and the not so bright Sadhvi (Sadhvi Niranjan Jyoti). They continue to say things that are outright stupid and take away from the enormous good that this government is doing. So I haven't been able to understand why do Narendra Modi and you tolerate these people? Can't they be thrown into the Arabian Sea with alacrity?
NDTV
: Not the most; dolts is also a part of a language debate, but a very serious question there. You have an ally standing there and talking about taking away voting rights of the Muslims.
Arun Jaitley:
Let me, let me, let me tell you it's certainly a problem for us.
NDTV
: What is the problem? Define the problem.
Arun Jaitley:
I'll tell you. The Government has a specific agenda today. The specific agenda; in 10-11 months nobody has heard of corruption. You are taking economic decisions, the economy is moving faster and I hope in the coming years it will move faster. Internationally we are moving up, in terms of security we are doing a lot. Now, irresponsible statements are coming from even relatively lesser members or insignificant members...
NDTV:
Is Sakshi Maharaj an insignificant member when he said that Muslims don't do population control?
Arun Jaitley:
You see, he is not a part of the; you see, I'll tell you, you will have people in various organisations who are given to these kinds of extreme statements, which I certainly don't agree with though if you...
NDTV:
Sadhvi Niranjan Jyoti is a member of the Council of Ministers
Arun Jaitley
: She was asked to...
NDTV
: Apologise
Arun Jaitley
: She came from a particular social background, she was asked to apologise and I must say to her credit she not only apologized, but she stood to her brief and then she realised that she made a mistake.
NDTV
: Okay
Arun Jaitley
: But there are some who are habitual in this. I think the Shiv Sena comment by the MP is extremely. I certainly can't agree with it in any context. Forget India or its Constitution, we have a civilisational history which doesn't subscribe to that.
NDTV
: And Shiv Sena hounding of Shobhaa De for just expressing her opinion?
Arun Jaitley:
You see I don't believe in hounding but I'll just come back to that point. You see now Suhel mentioned about 2-3 cases. India is a very complex state. I have learnt a lesson particularly after the division of Andhra Pradesh, something, which my party supported. Issues of region, water, religion, caste, language, we have to be extremely responsible when we deal with it. I can't go to Tamil Nadu and start a tirade against the language there.
NDTV
: But you can object to a state telling you what to eat and what to not?
Arun Jaitley: I'll just tell you, please let me tell you because it is not been understood. And I think partly on two grounds. I would fault my colleagues in the media for not giving the exact picture. I just tried to understand what the Marathi business was about in Mumbai. Suhel mentioned it. Mr Vilas Rao Deshmukh, when he was the Chief Minister, the cinema halls came and said please give us this, this discount. He gave it and said 'but the Marathi cinema feels that they are being ignored, so it's necessary for you to screen 120 shows of a Marathi film every year, I'll give you the discounts.' They committed to him. Congress government, you never made an issue out of it. Those 120 shows started showing at 8:00 in the morning and 12:00 past midnight. So now again, those chaps came and said that these chaps are taking us for a ride. So the government and the cinema owners had an arrangement and they said choose your 120 slots anytime in the year between morning and evening.
NDTV
: But now it was made 'PrimeTime', that was the change from the Congress position.
Arun Jaitley:
Prime Time, but you can't show it 12 am - 3 am, at past midnight. So they said Prime Time and finally they compromised for the day. Now the Marathi viewers of the cinema have an attachment to their own language. Now I can't go to Maharashtra and start a tirade against their language, I can't go to Tamil Nadu or West Bengal and start a tirade against their language, I am inviting trouble and I am afraid....
NDTV
: You are trying to say that Shobhaa De started a tirade?
Arun Jaitley:
I don't want to get into individuals, but a simple thing like, something which has been pending from the past 10 years which has been going on. The change of timing is done. Some headline grabbers can issue a tweet or some such issue and create a lot of trouble, just like the individuals you named in the political fraternity do it. Its better, its better...
NDTV
: But do you have an answer to Suhel's question? Is it becoming a problem for the government that the motor mouths, either MP's or your allies....
Arun Jaitley
: Barkha please let me clarify. It is a problem for us, but then an issue of this kind, now you mentioned beef. Now Suhel can enjoy his beef anywhere he goes in the world, but let me tell you India has sensitivities. Don't forget you have Article 48 in the Constitution of India which Dr Ambedkar, and we again on his birthday today had proposed with regard to cow slaughter and other milk giving animals in India, there is a provision in the Constitution. You have a 7 Judge judgement of the Supreme Court in this regard which allows them and this is something, which has continued over the years. You have had Pandit Nehru proposing, his government proposing such legislation's in Orissa and then he...
NDTV
: And then reneged on it. Nehru actually changed his mind on it.
Arun Jaitley
: No, no the only issue here was whether it is only the cow or the cow fraternity.
NDTV
: And now it is becoming the cow fraternity, the cow was always there.
Arun Jaitley
: Therefore, the cow, the cow has been there since 1947, it is cow or the cow fraternity. I am not in this question. You have a particular history. Now these are certain issues. You remember 1967, what happened when you had all the religious institutions? The Shankaracharyas went on fast until death, the sadhus arrived in Delhi; probably the most fierce agitation you have seen. These are not the issues which a Suhel Seth can make a comment and say a, 'oh so what', because these are issues which will affect this country and its position.
NDTV
: Anant, Anant where are you? Yes, you have a question. Yes quickly. Stand up and ask your question.
Anant
: Good evening Sir. First of all I would like to congratulate you, all the work your government has done in terms of foreign affairs, economic reforms and most recently rescue operation in Yemen. Sir, we have talked about many controversial statements that many people associated with BJP and its allies come up with and you said that people have retracted these statements; they are in larger context; they reflect regional sensitivities. Sir but the fact remains that a lot of these statements reflect opinions of these people, and lots of these people are engaged in capacities in institutions where the opinions have consequences. So Manohar Lal Khattar, for instance, is the Chief Minister of a state and he has gone to say defend khaap panchayat, talk about victims; cases of violence against women; so in this capacity how can a person like Manohar Lal Khattar and in his capacity Chief Minister be expected to protect women? Or the person who made the remarks about tobacco is actually the Head of the Parliamentary panel.
NDTV
: Okay, let him respond
Arun Jaitley
: I tell you in a vast country like India you will always find a few people, either they have extreme views, they may have perverse views; they may be Maverick by temperament.
NDTV
: But they are in a position of power
Arun Jaitley
: They are at the position where they are noticed. Now at the end of the day we have to decide whether we allow our national agendas to be high-jacked by these people, whose statements don't reflect the opinion of mainstream society, for instance the whole business of language issue in Maharashtra that I mentioned, the issue is, its narrative a simple issue, I am afraid that is where I thought media had failed because I kept reading my newspapers and my televisions channels. I didn't know what the controversy was till I asked somebody what the background of this is, then I realized, it's some 10 years old issue which is pending. These problems will remain but a mature society like India has to choose its course.
NDTV
: But Sir, when the Home Minister says do we even need conversion, when you and the Prime Minister have clearly said there is a freedom to practice and propagate any faith, I think the question is, is government talking in multiple voices?
Arun Jaitley
: I think lets not mislead what Home Minister has said. The HM has consistently said in the Parliament, since he deals with this issue, the conversion is a sensitive issue. It has its consequences. Nobody can take up the argument I am allowed to convert, but you cant convert, then reconvert the converted. If you have the debate then it's a perverse debate. You see if you allow the conversion and re-conversion as a part of a right to practice your religion, it will involve some amount of tension.
NDTV
: But the re-conversion is also conversion, its not ghar wapasi. It has to be the same rules.
Arun Jaitley: It has to be the same rules. Some states have very good laws in this regard; some states actually require you for conversion and re-conversion to get a certificate from the Collector, so that its voluntarism is determined. But I am not for this. You can have debate. We must not allow conversion and re-conversion, the debate can be allowed freely. The debate can't be you can allow conversion, you can't allow re-conversion, that can't be the debate.
NDTV
: But Mr Khattar giving Baba Ramdev Cabinet equivalence?
Arun Jaitley: I don't know. I have not checked the facts. Like the Marathi issue let me check up the complete facts because I'll give you another illustration, something, which has brought India and our government into some element of controversy. I go beyond my news channels to check up the facts. The whole world believes after these 3-4 incidents that there is concerted attempt, a majority community attacked a place of worship of minorities, churches. We asked, compiled the entire data. That's what we are told by channels, your channel said so; the two cases, which have been resolved in Delhi, not a majority community attack, these are cases of theft. One is a case of theft and one is two drunk boys. One throws a bottle at a window. The rape of the nun, which was a terrible thing to happen, you arrested some Bangladeshi Muslims; West Bengal police have arrested. Again in the Mumbai case again the person of minority community arrested in a law and order issue. Now that almost all of the cases have been resolved, not a single case is of a majority community attack of a political nature.
NDTV
: Why is there a perception problem? Why do you have the former Navy chief or a former top cop or Admiral Sushil Kumar saying....
Arun Jaitley: For that I blame your fraternity
NDTV
: But you have to blame your political messaging also and these loud mouthed insignificant MPs.
Arun Jaitley
: My messaging can only come through media. Now in your reporting you consistently made it appear that it's the majority community attack, the Christians feeling insecure. Now, in each of the cases where people have been arrested it's turned out to be law and order issue; it's a criminal come from Bangladesh and raped that poor nun. Now with the velocity with which you reported this initially have you reported the factual position, telling the people of the India? The fact is you have not done it, most of the people not aware of these facts till I pointed it out. The impression was in India Christians are insecure and they must be feeling insecure because of news item come that they have been attacked. Now at the end of the day you will find out each of these is law and order
NDTV
: But isn't the surround sound that the government, this ghar wapasi controversy etc is also contributing to the message?
Arun Jaitley
: It can. Therefore when politicians have to be responsible, please keep one fact in mind, today public space is shared, is shared between government, Opposition, civil society, media, and all the organisations. Therefore our communication, of the politician and this irresponsible gentleman speaks out, as you rightly mentioned it, they must be put into responsibility. At the same time all these cases, facts must come out. And therefore today you can't have a global image of India, because of bad reporting by some channel, saying that in India places of worship are being attacked, where the fact is it's a normal law and order issue.
NDTV
: Coming to the end of the show and before our last question Sir, no one can believe that the government doesn't know where Rahul Gandhi is. Maybe we in media do not know, but the government must know and so why is the government not sharing this information? Because his SPG is there, it's tax payers' money, do we not have the right to know, does the government know where he is? (The interview was held before Rahul Gandhi came back from his leave of absence)
Arun Jaitley
: At least I don't know. I hope he is doing well where ever he is
NDTV
: BJP is getting good jokes at the expense of his absence
Arun Jaitley: No, I don't know why he is disappeared
NDTV
: We need ghar wapasi
Arun Jaitley:
I think if we hadn't won the election and somebody else, then India must be looking where their PM has gone
NDTV
: Okay, we're really out of time. Quickly, Chetan Bhagat
Chetan Bhagat: There is still talk that big bang reform doesn't happen. I know the government doesn't believe in big bang, it is a gradual long innings for the government, but at the same time rating the agency, although they have made outlook positive, they have mentioned time is running out. There are Corporates waiting. They want decisions of a bolder nature, financial experts; do you really feel that the pace of reform and radical or the extent of the reform is fast enough to bring out the rapid increase in GDP growth?
NDTV
: Quick response, then we close
Arun Jaitley:
A lot of people tell me making a lot of incremental reforms is not big bang. I have asked each one of them please tell me which big bang can come, they all promised to get back to me. None of them including Chetan Bhagat has got back to me since then. It's a nice piece to write on big bang and not incremental, but please tell me what is big bang?
NDTV
: Well we leave it there. The session of Parliament is going to be crucial. We thank you Arun Jaitley for being a good sport and taking our questions and we hope you will continue to come back to our shows.