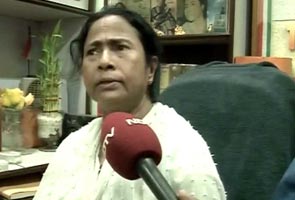 Kolkata:
Farmers in Singur, who unwillingly parted with their land for the Tata Nano car project and did not take compensation, would be given Rs 1000 a month, West Bengal Chief Minister Mamata Banerjee announced today.
Speaking on the anniversary of her one year in office, Banerjee said that her government would pay Rs 1000 each month to the farmers living in distress and poverty till the case was settled.
The government would also provide them rice at Rs 2 a kilo, she said.
She said that though the matter was in court, the government had taken possession of the land.
The state government had passed the Singur Land Rehabilitation and Development Act, 2011 to return the land to unwilling farmers.
On June 23 last year, the Calcutta High Court had refused to entertain Tata Motors' plea seeking directions to restrain the government from taking possession of about 1000 acres of land.
Tata Motors subsequently moved the Supreme Court, which stopped the West Bengal government from returning land to farmers that was acquired for the small car project.
Inaugurating the 'Pragati Utsav' to mark a year's completion of her government, Banerjee said "most of the job has been completed, except for a few, and we are determined to keep the wheels of progress rolling in the coming years."
Banerjee said she did not take a single day off in the last one year. "Even when my mother died, I attended office. It will be my endeavour to do more work in coming years."
Governor M K Narayanan cited the Singur Act, restoration of peace in Darjeeling and improvement in the situation in Junglemahal as outstanding achievements of the new government in the last one year.