Highlights
Media report, social media posts claimed 8-year-old was not raped
Jammu and Kashmir police debunk claims in press release
Prosecution of accused in case faces stiff resistance from some groups
New Delhi:
The eight-year-old girl killed in Kathua this January
was raped before she was strangled
, the Jammu and Kashmir Police said in a statement to counter a media report and a video circulating on social media that claim the girl hadn't been raped. Such reports, the police statement said, "are far away from truth".
The police had filed charges against
eight people including two policemen
who allegedly destroyed crucial evidence but have been targeted by local groups who contend the six people accused of rape have been framed. It is in this context that
demands for CBI inquiry
were made, a call supported by two BJP ministers who eventually had to quit last week for what the party called their "indiscretion".
Over the last few days, there had been some reports in the print and electronic media shared on social media sites as well that were far from true, the statement said, seen as a reference to reports that said a second autopsy report on the girl contradicted the police version.
"Constrained by this reportage, it is to place on record that on the strength of opinion furnished by medical experts, it has been confirmed that the victim was found subjected to sexual assault by the accused," a statement by the crime branch of Jammu police said.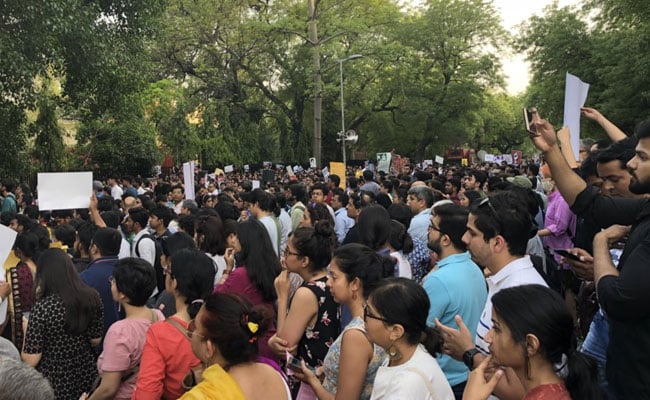 The statement goes on to say that "the medical expert has also opined that hymen of the victim was not found intact". Based on the medical opinion, the charge of gang-rape was added in the case, the statement says.
The girl had gone missing on January 10 while grazing horses in the forest. Investigators said
the accused kidnapped her
after pretending to help her find her horses.
According to a 15-page charge-sheet filed by the Jammu and Kashmir Police, the girl was kidnapped to drive her nomadic Bakerwal community out of the region. The girl was held captive for nearly a week and repeatedly raped before she was finally killed, according to the police charges.
Saturday's crime branch statement underlined that this allegation was also backed up by the medical report.
"In addition to this, medical opinion has established beyond doubt that the victim was held in captivity and administered sedatives and her cause of death was asphyxia leading to cardio pulmonary arrest," police said.