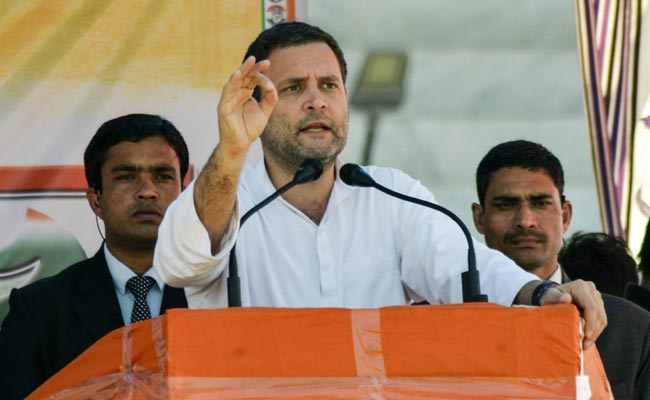 Athani(Karnataka):
Attacking Prime Minister Narendra Modi over his "stern action" remark on bank fraud cases, Congress President Rahul Gandhi said that before taking any action he should first explain how the money was taken away from the bank under his government's watch.
"A scam of Rs 22,000 crore happens, Nirav Modi runs away with Rs 22,000 crore from Indian Banks and Modiji (Prime Minister) says action will be taken," the Congress president said, who has been claiming that the size of the fraud is Rs 22,000 crore.
"Action will be taken? You first make us understand how did Nirav Modi take Rs 22,000 crore from Indian banks under the watch of Narendra Modi's government," Mr Gandhi said, addressing a rally in poll-bound Karnataka.
Prime Minister Modi, in his first comments on the Rs 11,400 crores Punjab National Bank fraud that surfaced last week, said that his government will not tolerate embezzlement of public funds and will continue to come down strongly on instances of financial irregularities.
"Modi ji should also make us understand why Vijay Mallya and Lalit Modi are sitting in London. Someone takes Rs 10,000 crore, someone takes Rs 15,000 crore and some one takes Rs 22,000 crore, and the Prime Minister of the country does not do anything," he said adding that "when farmers of India asks for loan waiver of Rs 50,000 or Rs one lakh, Narendra Modi ji does not answer."
He also attacked the prime minister over a fresh finacial fraud that was reported in the national capital. On Thursday, the Central Bureau of Investigation (CBI) registered a case against Delhi's Karol Bagh-based diamond jewellery exporting firm Dwarka Das Seth International for an alleged bank loan fraud of Rs 389.85 crore involving the Oriental Bank of Commerce (OBC).
Under Modi Ji's "Jan Dhan Loot Yojana", another scam!

390 Cr., involving a Delhi based jeweller. Same Modus operandi as Nirav Modi. Fake LOU's.



Predictably, like Mallya and Nirav, this promoter too has disappeared while the Govt looked the other way.#ModiRobsIndiaOffice of RG (@OfficeOfRG) February 24, 2018
Taking a dig over PM Modi over his Mann ki Baat radio programme, Mr Gandhi tweeted:
Modi Ji, last month you ignored my suggestions for your Mann Ki Baat monologue.

Why ask for ideas when in your heart you know what every Indian wants to hear you speak about?

1. Nirav Modi's 22,000 Cr. Loot & Scoot

2. The 58,000 Cr. RAFALE scam.

I look forward to your sermon. pic.twitter.com/jp0AnLePtU

Office of RG (@OfficeOfRG) February 21, 2018
Last week, the banking sector was rocked by major financial frauds -- involving Rs 11,300 crore by diamantaire Nirav Modi and Rs 3,695 crore by Rotomac owner Vikram Kothari -- surfaced in which the CBI has filed cases and made several arrests.
(with inputs from PTI)