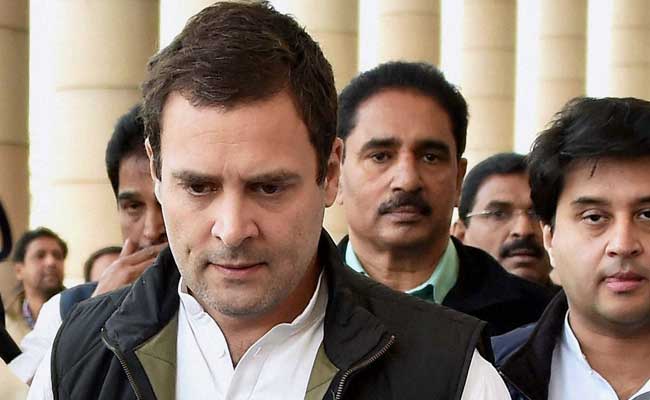 New Delhi:
Congress chief Rahul Gandhi has called motormouth Union minister Anantkumar Hegde's "an embarrassment to every Indian" after his declaration that "any hand that touches a Hindu girl should not exist". The senior BJP leader from Karnataka didn't stop at that. His next target was a Congress leader who is married to a Muslim woman.
Mr Hegde dissed Congress' Karnataka chief Dinesh Gundu Rao -- who had dared to ask about his contribution to the state -- as a "guy who ran behind a Muslim lady".
The Congress chief censured his statements and said he was unfit to be a Union minister.
In a tweet today, Mr Gandhi said, "This man is an embarrassment to every Indian. He's unfit to be a Union Minister and deserves to be sacked."
This man is an embarrassment to every Indian. He's unfit to be a Union Minister and deserves to be sacked. https://t.co/SbrvEdQBur

- Rahul Gandhi (@RahulGandhi) January 28, 2019
The Karnataka Congress chief's wife Tabu Rao has also called out Mr Hegde and said she was being targeted by certain BJP leaders who can't take on her husband politically.
"I have never made any personal remarks against any BJP leader and I strongly resent them using me as a pawn in their cheap politics. Such misogynistic and provocative remarks are highly unbecoming of a Union minister," Tabu Rao said in her response on Twitter.
She added that she was born a Muslim, but "we are proud Indians first".
My response to Union minister Mr Ananth Kumar Hegde's statement which are disrespectful to my family and me. Unfortunately, I am unable to tag him because he has blocked me. @dineshgraopic.twitter.com/ZsiBf2jgKB

- Tabu Rao (@TabbuRao) January 28, 2019
The Union minister for Skill Development, known for making controversial and divisive remarks, made another inciting comment on Sunday.
"We have to rethink the priorities of our society. We shouldn't think of caste. If a Hindu girl is touched by a hand, then that hand should not exist," said Anantkumar Hegde in Karnataka's Kodagu district, adding to his expanding list of reckless comments.
Then he claimed that "Taj Mahal was not built by Muslims". "Shah Jahan in his autobiography has said he bought this palace from King Jayasimha. It's a Shiv mandir built by King Paramatheertha, Tejo Mahalaya. If we keep sleeping, most of our houses also will be named manzil. In future, Lord Ram will be called jahanpana and Sita will become bibi."
When Congress leader Dinesh Gundu Rao objected to his "deplorable" statement, Mr Hegde turned his focus towards the Raos.
I shall definitely answer this guy @dineshgrao's queries, before which could he please reveal himself as to who he is along with his achievements?
I only know him as a guy who ran behind a Muslim lady. https://t.co/8hVJ2wQXMU

- Anantkumar Hegde (@AnantkumarH) January 27, 2019
A repeat offender, Anantkumar Hegde, who had claimed that the BJP would change the Constitution by removing the word "secular" from it, had also contributed to the Sabarimala controversy and termed the Kerala government's handling of the issue as "daylight rape" of Hindus.
This other time when Dalit protesters waylaid his convoy en route to a job fair in Karnataka's Ballari, he likened them to "dogs barking on the road". The opposition parties have also been described as "crows, monkeys, foxes and others" who were joining hands to fight the tiger, Prime Minister Narendra Modi. Even the Janata Dal (United), a BJP ally, asked him to mind his language.
And when verbal assaults aren't enough, he doesn't shy away from resorting to violence. In 2017, he was caught slapping a doctor on camera because he wasn't happy with the medical treatment provided to his mother.
A five-time Lok Sabha member from Uttara Kannada, Mr Hegde was inducted into Prime Minister Narendra Modi's cabinet as part of the BJP's strategy to wrest Karnataka from the Congress.