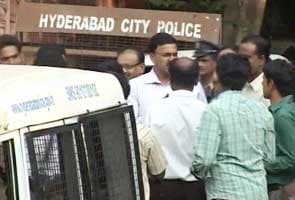 Hyderabad:
After the arrest of senior IAS officer BP Acharya in the Rs 4500 crore Emaar properties case on Monday, two more senior IAS officers, LV Subramanyam and KV Rao, have been named in the list of 12 accused mentioned in the chargesheet filed by the Central Bureau of Investigation (CBI) on Wednesday.
Both the officers had served as vice chairman and managing director of Andhra Pradesh Industrial Infrastructure Corporation (APIIC) between 2002 and 2009.
Mr Subrahmanyam, who is currently CEO of Tirumala Tirupati Devasthanam (TTD), told reporters in the temple town of Tirupati that he was shocked over the CBI calling him in the case as a witness but making him an accused.
Reacting to the naming of Emaar Properties and its associate companies, Emaar said it would review the contents of the charge sheet before making any comment.
The charge sheet also includes former IAS officer Visheswara Rao who served as secretary in the industries department.
The CBI brought in six huge boxes containing 50,000 pages of documents submitted along with the 300-page chargesheet. Nearly 300 witnesses including politicians, film stars, bureaucrats and industrialists were examined by the investigating agency.
Mr Acharya, Andhra Pradesh's Principal Secretary, went to the government run NIMS hospital on Tuesday, complaining of chest pain. He has now been remanded to two weeks in judicial custody. His bail plea comes up on Friday.
The case involves Emaar Properties, a real estate giant headquartered in Dubai, which was planning to build a high-end hotel, golf course and luxury villas on 535 acres in Gachibawli. (Read: Five big facts of the case)
The township was to be built as a joint venture with the Andhra Pradesh Industrial Infrastructure Corporation (APIIC) which was forged when Mr Acharya was the Vice Chairman and Managing Director of the APIIC. The agreement was later revised, reducing the share of the APIIC, and the decision was approved by its board instead of the cabinet. Emaar-MGF is said to have benefitted by upto 2500 crore rupees. APIIC says the developer has cheated it of crores of profit by siphoning money to Dubai.
The villas, which were bought by politicians, film stars and A-list entrepreneurs were reportedly under-valued in documents, costing the government thousands of crores. Land was reportedly sold at Rs 6,000 per square yard when the market rate was at least Rs 60, 000 per square yard.
The CBI probe in to the case was ordered on August 10 last year by the Andhra Pradesh High Court.