New Delhi:
Prime Minister Narendra Modi today addressed a thanksgiving convention at Talkatora stadium organised by traders supporting the BJP to express "gratitude" for various measures promised in the party manifesto for the Lok Sabha polls.
Congress spokesperson Priyanka Chaturvedi formally joined the Shiv Sena in the presence of party chief Uddhav Thackeray today. She, launched a scathing attack on the Congress, accusing it of not supporting her in the episode of unruly behaviour by some Congress activists. "I have served the party (Congress) for 10 years in a selfless manner without asking for anything in return. But the party chose to ignore my complaints though the matter was taken up at the topmost level," Ms Chaturvedi said. She expressed her "pain" to the Congress leadership about the reinstatement of colleagues who misbehaved with her.
Former Uttar Pradesh Chief Ministers Mayawati and Mulayam Singh Yadav shared a stage for the first time in 25 years where the BSP chief praised the Samajwadi Party founder and dubbed Prime Minister Narendra Modi as "a fake backward". Addressing a public meeting in Mainpuri, Mulayam Singh Yadav's bastion, after a 48-hour curb on her by the Election Commission ended on Thursday, Mayawati thundered: "Mulayam Singh is not a fake backward like PM Modi.
Here are the LIVE Updates of the Lok Sabha elections 2019 :
PM Modi addresses traders convention at Delhi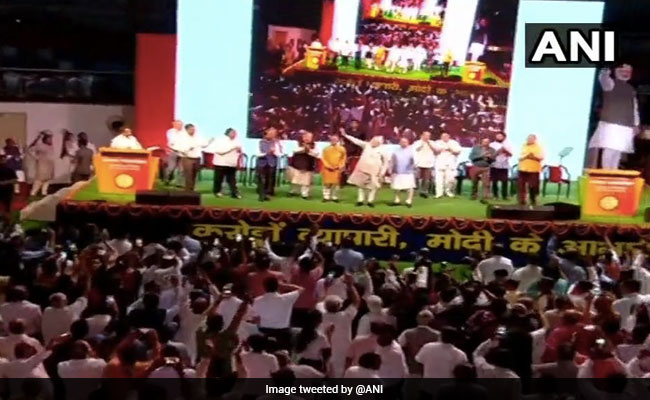 Traders have always thought about the country. It is power of the traders of our country that India was once called 'Sone Ki Chidiya'

I have tried my best to ease your business and life in the last 5 years and want you all to be in a tension-free work without any fear

Traders have always thought of the country, they have linked themselves to the need of the country. The strength of Bhamadshah had doubled the power of Maharana Pratap. It was the strength of the merchants of our country that India was called a gold Bird

I believe people of business community are capable enough to estimate it beforehand regarding business and products

Since independence, there has been a perception of the Congress that the traders are getting into a mess that is happening only because of the traders

After the implementation of GST, arrangements have made your life easy. You no longer have to pay separate toll tax in each state, the consignments reach the destinations on time across the country, there are no inter-state barriers

Because of the interference of the earlier government agencies, the youth were left to join the business or to start some new work. Now, with the promotion of the digital system, there has been a change in rules and helped youth overcome all difficulties

Have abolished 1,500 archaic laws in five years

We are eliminating many difficulties in getting loans to businessmen. You now get loans from the loan portal in less than one hour

Have been successful in changing the Inspector Raj in our country to a great extent. Where to go Inspector the Inspector Raj now, the decision is coming from just one Computerized Random Allotment

The method of income tax assessment is also being changed. The BJP-led government has now taken the responsibility of changing the assessment system that had been going on for 70 years. Now the entire system of income tax assessment is being done without a human interface


The Congress is not considering any other aspect other than its own business. Gandhiji, who himself proudly called Bania, is the only Congress businessman who abuses the society, says all businessmen are thief

We will have a national merchant welfare Board once again on May 23 when we form a Modi government for our country to move fast

We would provide Rs. 10 lakh accidental insurance to all traders registered under GST. Like Kisan credit cards we will bring a merchant credit card plan for registered traders