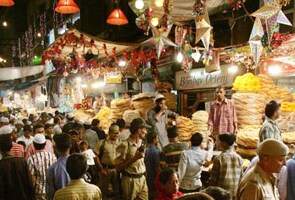 New Delhi:
India will celebrate Eid tomorrow. The sighting of the moon, which marks the end of the month of fasting during Ramadan, was announced today.
Megastar Amitabh Bachchan tweeted, "Eid Mubarrak to all brothers and sisters, young and old, near and dear...!! Happy greetings for EID ! May there be peace and love among all... and may all your wishes come true."
"Eid Mubarak to all," actress Bipasha Basu wrote on the micro-blogging site. Akshay Kumar tweeted, "Eid Mubarak to all regardless of those celebrating it today or tomorrow. May all your fasting, prayers and duaa's be accepted. And don't forget my Eidi, your
never ending love."
"Eid Mubarak to all who are celebrating today! May the blessings of Allah fill your life with joy and prosperity!," wrote Vivek Oberoi. Actor Boman Irani and singer Sunidhi Chauhan also wished 'Eid Mubarak', while actress Shriya Saran said, "Excited for EID. Wanna eat haleem and biryani."
Parliament will have a two-day holiday from tomorrow on account of Eid-ul-Fitr and Ganesh Chaturthi. Lok Sabha and Rajya Sabha will now meet on Friday.