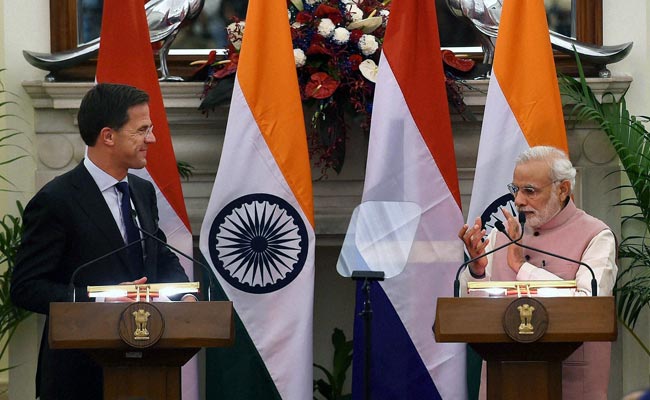 New Delhi:
Dutch companies are keen to invest in India, particularly in sectors like water management, waste management, agriculture, infrastructure, smart cities, banking and pension funds, Netherlands' Prime Minister Mark Rutte said on Friday.
"We have ample opportunities to grow but today we are particularly focused on smart cities, water management, waste management, agriculture, infrastructure, he told reporters in New Delhi.
He added: "We have pension funds with 1.5 trillion euros investments and they want to find business opportunities in India."
Accompanied by two ministers and a large trade delegation comprising representatives from over a 100 Dutch companies, Mr Rutte is currently on a two-day business visit to India.
On Friday, he also met Prime Minister Narendra Modi.
"We are going to Mumbai on Saturday and there are some very big infrastructure projects where we want to participate, also fighting the rising sea levels, so many possibilities," he said.
"I do believe that while the Indian economy is now the fastest growing economy in the world... you have overtaken China, whilst at the same time, facing various specific challenges that raise a lot of scope for Dutch companies to work here and for Indian companies to work in the Netherlands," he said.
Asked whether the 'Make in India' campaign figured in his talks with PM Modi, Mr Rutt said, "Absolutely. Constantly, because the fact that the Modi government has very clearly stated its vision in terms of 'Make in India', Clean India, what they are doing to clean the Ganga river, Digital India, 100 smart cities, all these programmes".
The trade volume between India and the Netherlands has increased over the last couple of years to almost 6 billion euros.
"We are one of India's top 5 trading partners in Europe.
Our trade with India has accumulated to 6 billion euros and is rising.
"At this moment, we have 180-200 Dutch companies operating in India and over 60 branches of Indian companies in the Netherlands," Mr Rutte said.
He added that with the Modi government in power in India, Netherlands' interest in the country had "accelerated".
"The fact that he (Narendra Modi) came to power as Prime Minister, and is a rockstar all over the world, and the same time having a very clear vision on how to grow the economy means that in Netherlands, India is high on the list again.
"We were interested in India before. But let's say in the last 12 months this has accelerated because of the new government and the fact that this new government is so much focusing on these particular programmes where you can easily add value from a fresh perspective by bringing our expertise, knowledge and companies," he said.
Meanwhile, various Indian and Dutch companies today signed 23 agreements for cooperation in various sectors, coinciding with the visit of the Netherlands Prime Minister Mark Rutte in Delhi.
These include MoU between Kotak Mahindra Bank and ING Group, Fortis Helthcare and VitalHealth Software, and Indian healthcare industry body NATHEALTH with Task Force Health Care (TFHC) Working Group India, which is a Dutch organisation representing the life sciences and health sector.
Besides Mr Rutte, Dutch Minister of Foreign Trade and Development Cooperation Lilianne Ploumen and Minister of Agriculture Sharon Dijksma were present at the signing of the Memorandum of Understanding (MoU).
Commenting on the MoU with ING, Kotak Mahindra Bank Executive Vice Chairman and Managing Director Uday Kotak said: "The merger of ING Vysya Bank with Kotak Mahindra Bank was driven by the growth potential emerging from our complementarities.
"This MoU is one such opportunity. It opens a window of opportunities, offering international exposure and enabling us to learn global best practices."
Welcoming cooperation between Kotak Mahindra Bank and ING Bank, ING CEO Ralph Hamers said: "It will give clients from the Netherlands and other 39 countries where we are active in commercial banking access to Kotak's services in the vast Indian market while at the same time it will offer our combined clients in India the opportunities of ING's international network".
Similarly, Fortis Healthcare Group Head Medical Operations said VitalHealth, which has a focus on eHealth, is an ideal partner for further improving the company's position in medical excellence and "enables Fortis Healthcare to achieve ICHOM (International Consortium for Health Outcomes Measurement) certification".
VitalHealth Software CEO Laurens van der Tang said the partnership with Fortis will help improve the quality of care by facilitating and optimising the process of outcomes measurement.
The MoU between Task Force Health Care (TFHC) Working Group India and NATHEALTH will remain effective for period of 3 years.
"Our key objective of signing the MoU is to promote cooperation and exchange of information, knowledge and expertise between NATHEALTH & TFHC in the field of life sciences & health...," NATHEALTH Secretary General Anjan Bose said.
Commenting on the development, Task Force Health Care Chairman working group India Len de Jong said: "The Netherlands is keen to share their knowledge and experience with that of India.
"Together we will be able to provide excellent medical healthcare in India as well as in the Netherlands."