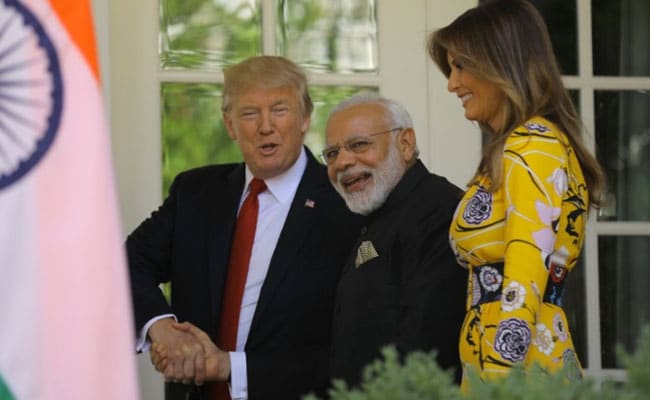 New Delhi:
US President Donald Trump affects the Indian accent and "imitates" Prime Minister Narendra Modi while discussing Afghanistan policy, the Washington Post has said in a report quoting officials.
"Senior administration officials said that the president has been known to affect an Indian accent and imitate Indian Prime Minister Narendra Modi, who in an Oval Office meeting last year told him, "Never has a country given so much away for so little in return" as the United States in Afghanistan," said the Washington Post report.
The report added, "To Trump, Modi's statement was proof that the rest of the world viewed the United States as being duped and taken advantage of in Afghanistan".
President Trump has been accused of racism for his earlier use of mimicry. In October, he was heard using a Puerto Rican accent while speaking about the plight of the victims of Hurricane Maria. During his election campaign, he mocked an Indian call centre representative and mimicked his accent while making a point about what he called "crooked banking".
President Trump has described PM Modi as a "true friend" and The two leaders have developed a warm rapport in the past year, also communicating on phone and on Twitter.
President Trump hosted PM Modi at the White House during his visit to the US in June last year. The White House said it was the "first dinner for a foreign dignitary at the White House under this (President Trump's) administration" and that it was "seeking to roll out the red carpet".
PM Modi had reciprocated warmly. "When he (President Trump) came to India in 2014... he was full of very warm remarks and observations about me, I still remember them," he told reporters at the White House.
PM Modi and president Trump last met at the ASEAN summit in Philippines in November.
Last year, PM Modi hosted Ivanka Trump, the daughter and informal advisor of President Trump, when she led a 360-member delegation to a high-profile business summit in Hyderabad.
The US has deepened its strategic partnership with India and extended ties across various fields, including defence, trade, research and fight against terrorism. It also called India a "leading global power" and promised to support India's leadership role in South and Central Asia.