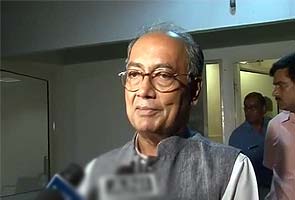 New Delhi:
Congress leader Digvijaya Singh has derided the government's auditor, Comptroller and Auditor General (CAG) Vinod Rai, for stating that the role of a public auditor should not be limited to submitting reports to Parliament.
"What does CAG want to be become if not accountant? Do they intend to become the PM?" Mr Singh asked today, in response to Mr Rai's comments at his lecture at Harvard's Kennedy School yesterday.
Union Minister Manish Tewari added, "It's most unfortunate that CAG, rather than validating the integrity of his numbers, chooses to criticise the government on foreign soil... I think constitutional authorities should be circumscribed by the Lakshman Rekha (limit) of propriety."
CAG reports on the telecom and coal sector have indicted the government for following policies that lacked transparency and cost the government thousands of crores. The findings, rejected by the government, rocked Parliament and adrenalised the opposition's charges of systemic graft.
Addressing the Kennedy School, Mr Rai had said, "Should we as public auditors limit our role to placing reports in Parliament or go beyond that and seek to sensitise public opinion on our audit observations, especially in the social sector such as rural health, primary education, water pollution, environment, drinking water etc?"
(Read full speech)
"We may not be able to wipe out corruption, but our endeavour is to uncover instances of crony capitalism. The government should be seen to support enterprise per se and not particular entrepreneurs," Mr Rai said.