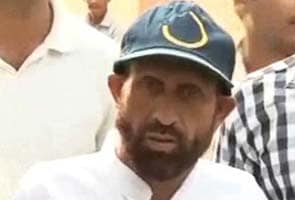 Srinagar:
While controversy continues around whether Kashmiri man Sayed Liyaqat Shah is a militant who wanted to surrender or a terrorist who was preparing to target Delhi, NDTV has accessed documents processed by the Jammu and Kashmir government and central agencies that list him as one of over 200 individuals who had sought to return from Pakistan under the state's rehabilitation policy for surrendered militants.
Liyaquat Shah's name is 51st on the list of 223 people cleared under the amnesty scheme. The elite National Investigation Agency has now been tasked with determining who he really is.
The Delhi Police is sticking to its stand that the man is a terrorist who entered India via Nepal to execute an attack at a mall in the capital on or before the festival of Holi.
It says it intercepted Liyaqat in Gorakhpur in Uttar Pradesh and that he then confessed that arms and ammunition were waiting for him in a guest house in Delhi. An AK-56 assault rifle, two magazines with 30 cartridges each and three hand grenades were later recovered by the police. A sketch of a man who allegedly left the arms at the guesthouse for Liyaqat was released by the police on Sunday.
Neeraj Kumar, the chief of the Delhi Police, has defended the arrest, saying, "There are no loopholes. We had developed the intelligence on our own."
But the Jammu and Kashmir police and the state government say the 45-year-old was a militant headed home from Pakistan as part of the rehabilitation scheme. They say his name was cleared by all agencies of the state and central governments after a thorough check confirmed that he did not participate in terrorist activities. Liyaqat, they say, had waited for two years to be united with his wife and children.
Mr Abdullah has emphasised that the Liyaqat case could undermine the crucial surrender policy and discourage others from using it. Sources say controversy over the arrest has made the Centre review the policy and look for a larger framework for the surrender and rehabilitation of militants as it exemplifies the need for better coordination amongst agencies.
The Centre had sanctioned the amnesty scheme in 2010. Since then, more than 300 Kashmiris have crossed back from Pakistan in the hope of a fresh beginning.
Many of them were on the streets of Srinagar today, protesting that while the government had encouraged them to make a return, it had done little to make them feel at home.
"Our children do not get admission in schools. We have no jobs, no homes," said Zaibu Nisa, one of the protesters and the wife of a former militant.
Shabir Ahmad, who came back last year after spending almost two decades in Pakistan occupied Kashmir said, "My brothers say they spent Rs 2 lakh on my court case to get me freed. I had to sell my share of land to repay them. I am repenting the decision to return."
Shabir had returned with his Pakistani wife and three children. Their return began with arrest and several months in jail.