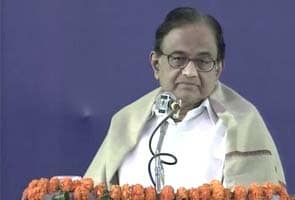 Alwar:
Finance Minister P Chidambaram said today that the direct cash transfer of subsidies will miss its January 1 launch in districts where necessary arrangements, such as a digitised list of beneficiaries with the banks, are not in place.
"We need a digitised list of beneficiaries for each district. If that is not ready, the scheme will not be launched on January 1," Mr Chidambaram said in Rajasthan's Alwar district.
The minister was in Alwar to meet bank officials and iron out hurdles in rolling out the Aadhar-based scheme in the district.
The scheme is scheduled for rollout in 43 districts first - Alwar, where a pilot project is already on in Kotkasim tehsil, is one of them.
The UPA government has billed direct cash transfers as revolutionary - one that will cut red tape, curb corruption by removing middlemen and improve the delivery of services. But given rural India's poor banking network, concerns remain about how efficient it will be.
The scheme will allow welfare payouts, such as pension, MNREGA wages and food subsidies. Beneficiaries will be identified through Aadhar cards and receive the money directly in their bank accounts.
In Kotkasim, where kerosene oil subsidy is doled out through cash transfers, the list of complaints is long.
"I did not get subsidy a single time. I have to spend at least Rs 200 a month on kerosene. Even after going to the bank three times in the past one year, I never got subsidy," says Ram Bisht, a villager who travelled 50 km today but couldn't meet Mr Chidambaram.
Om Prakash Sharma of the Ration Shop Owners Association, Alwar, says: "Who can guarantee that direct cash transfers will stop corruption? That the business correspondent (of the bank) won't ask for a bribe?"
Officers from 35 banks in Alwar district attended the meeting with Mr Chidambaram. Some said they do not have an accurate list of beneficiaries since there is no updated voters' list. The business correspondents, who are meant to work as micro ATMs for banks that have no branches in an area, are demanding higher commission.
"Only after I get feedback today will I decide whether Alwar district is ready for the direct cash transfer rollout. But we need to find out if we are ready to play the game. We need to know if everyone is fit for the game, know the game and are in tune with the goal of the game," Mr Chidambaram said.