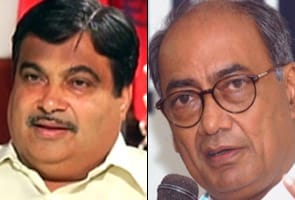 Indore:
It is all out war of words between Digvijay Singh and Nitin Gadkari with the senior Congress leader responding on Thursday to the BJP president's jibe by asking him whether he is the son of Maharana Pratap or Shivaji.
"Honourable Gadkari has questioned my paternity and he wanted to know whether I am a son of Shivaji or Aurangzeb? I am the son of Balbhadra Singh," Singh told reporters at the Indore Press Club.
"However, I want to know from Gadkariji whether he is the son of Maharana Pratap or Shivaji. I am not taking the name of Aurangzeb," the AICC general secretary said.
Taking a pointed dig at Singh, Gadkari referred to him as Mughal ruler Aurangzeb's son for his visit to a Muslim-dominated area in Azamgarh in Uttar Pradesh.
"A Congress General Secretary is celebrating festivals with families of terrorists in Azamgarh. The Congress must decide who's descendant is he - Shivaji and Maharana Pratap, or Aurangzeb?" Gadkari said while criticising Singh early this month.
Earlier, taunting the Congress over the delay in hanging Afzal Guru, Gadkari had asked the party whether the Parliament attack death row convict was its "son-in-law" evoking a strong reaction from the UPA party which said he was "out of his
mind" and needed to be referred to a psychiatric facility.
Singh also refused to comment on his younger brother and former BJP MP Laxman Singh's remarks about Gadkari .
"My younger brother has his own personality and politics. I don't want to comment on them," he said.
Apparently peeved at Gadkari describing Singh as the son of Aurangzeb, Laxman has recently termed the BJP President as "inexperienced" and added that he doesn't want to remain in the BJP after hearing such a low level of remarks.