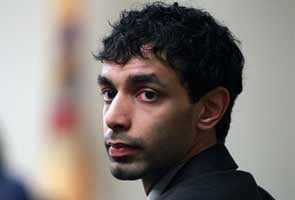 New York:
The distraught parents of Dharun Ravi who was sentenced for a month in prison for spying on his gay roommate, said that he has suffered "enough" while the mother of his roommate who committed suicide said that her family has never heard an apology from Dharun Ravi.
Twenty-year-old Dharun Ravi was sentenced for a month in prison on Monday,in a New Brunswick court by Judge Glenn Berman in Superior Court in Middlesex County.
In addition to 30 days in jail, set to begin on May 31, the Judge also sentenced Mr Ravi to three years of probation, 300 hours of community service, and counseling regarding cyber bullying and alternative lifestyles.
Dharun Ravi has also been asked to pay a $10,000 fine, which will go to a facility dedicated to victims of bias crimes.
"I heard this jury say guilty 288 times. 12 jurors said that in 24 questions. That's the multiplication," the Judge told Mr Ravi, referring to the questionnaire jurors filled out in arriving at the verdict.
"And I haven't heard you apologise once" he said.
"I do not believe he hated Tyler Clementi," the judge told a courtroom packed with supporters of Mr Ravi as well as with the Clementi family. "I do believe he acted out of colossal insensitivity", he added.
During the sentencing hearing, Mr Ravi's father Ravi Pazhani said for the past 20 months "we have witnessed several chapters of vengeful, malicious, selective prosecution filled with lies and injustice".
He urged the judge to "show heart" in the sentencing to "make sure the last chapter is all about truth, justice and preserve the sanctity of American judicial system which is widely believed to be the best in the world".
Mr Pazhani said that his son was convicted of bias intimidation under a "muddled law".
"Every coin has two sides and so does this story. In this case, until the trial, no one cared about the more truthful side of this story because it was not sensational, doesn't help media ratings, doesn't give any political mileage and doesn't help advance lobby group's agenda" he said.
"Even it meant going against the constitution and denying Dharun the fundamental constitutional right, 'presumption of innocence'," he added.
Mr Ravi's father urged the judge to consider the fact that Dharun was 18 years old when the incident happened and was "not a fully grown adult" at that time.
"He has been living in self-exile for past 20 months.
Since then he seldom leaves the house for any social activity and is completely withdrawn from his friends. As a 20-year-old how much more is he expected to endure," he said.
He added that "contrary to the false propaganda," they are not homophobic family and "Dharun was not raised to hate Gays".
"He didn't grow up in such an environment. We live in a diverse community" he added.
Mr Ravi's mother Sabitha who also made a statement at the sentencing, said "from the end of September 2010 to this day, what my son Dharun has gone through, is difficult to explain in words".
"The smile and his bright eyes are all gone from his face" she added.
"When it all started and the media was ripping him apart with their misleading facts and the wrongful statements of prominent people, he was absolutely devastated and broken into pieces" she said.
"The media misconstrued the facts to the public and misconceptions were formed about Dharun and his character. I was watching him helplessly and all I could do is hug him and cry" she added.
"I didn't have any power to stop all of this and save my son and prove to the world what a kind-hearted and loving person he is. He doesn't have hatred toward anybody" she further added.
Terming the media's influence in the case as "devastating", Ms Sabitha said that Dharun has suffered enough in the past two years.
"My 20-year-old son already has too much burden on his shoulders to face the rest of his life. I strongly believe the honorable judge will give him a chance to try his best to lead a normal life" she said.
His mother broke down while making the statement in the court. Mr Ravi himself began crying which happened for the first time since the beginning of the trial.