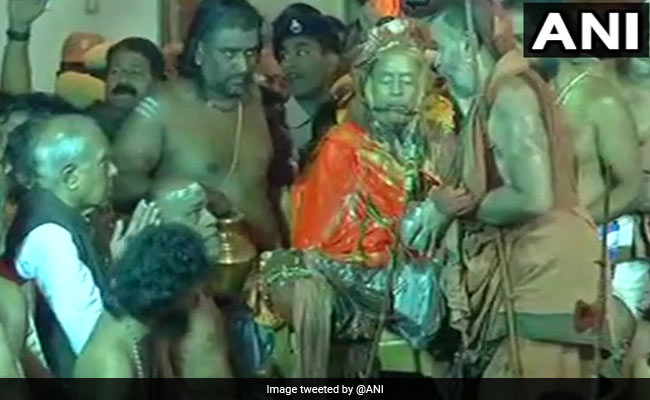 Kancheepuram:
The last rites of Kanchi Shankaracharya Jayendra Saraswathi had its share of tense moments when the authorities blocked the view of the proceedings by drawing a curtain, making the crowd restive. Those trying to force their way in were allegedly pushed out by some of the volunteers manning the burial ceremony.
A devotee, K Santhanam, claimed he was pushed away by some who stood close to the main entrance of the burial site -- Brindhavanam annexe -- which is a small enclosure.
Soon after the body was brought into the annexe, a curtain was dropped in front of that building cutting the visibility for the devotees waiting outside.
LED screens in and around the venue which till then beamed live visuals of the ceremony like Abishekam, halted the screening when the rituals shifted to the annexe, leading to resentment among some devotees.
As several followers tried to gradually move forward to get a glimpse through the various entrances to the annexe, it led to a near stampede-like situation. All the three entrances to the annexe were closed by Mutt officials during the final stage of the ceremony.
Shankaracharya Jayendra Saraswathi, the 69th pontiff of the Kanchi Mutt, died yesterday in Tamil Nadu's Kanchipuram. He was 82. He had been admitted to a hospital this morning after he complained of breathing problems.
Born Sri Subramaniyam on July 18, 1935, Jayendra Saraswathi was head of the Kanchi Mutt or Hindu monastery established by Adi Shankaracharya in the 8th century and had a huge following in South India. The Mutt runs several schools, eye clinics and hospitals. The junior pontiff Vijayendra Saraswathi will succeed Jayendra Saraswathi.