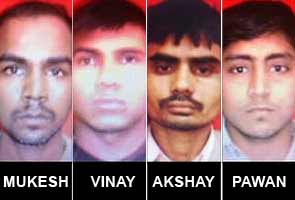 New Delhi:
Pronouncing four men guilty of raping and murder the 23-year-old physiotherapy trainee in December last, the judge said they had murdered a "helpless victim". He also called it a planned act with the intent to kill.
"I convict all of the accused. They have been found guilty of gang rape, unnatural offences, destruction of evidence and for committing the murder of the helpless victim," said Judge Yogesh Khanna to a crowded courtroom, as a larger crowd of national and international media waited outside the fast track court in Saket, south Delhi.
In his 237-page order, the judge commented at length on the brutality of the crime that outraged the nation.
"The manner in which (iron) rods were used and the injury on the body of victims rules out the possibility that these accused brought these rods only to overpower the girl," he said, "the act of inserting the rod and pulling out her internal organ after the gang-rape cannot be seen as only to facilitate the gang-rape...its was an intentional act to kill her."
"Besides causing external bodily harm, they inserted the rod repeatedly and pulled out an internal vital organ by hand - all these circumstances made the act of the accused intentional, done with sole aim of causing death."
The girl had been violated so badly with an iron rod that her internal organs were badly damaged. Then she and her friend were thrown onto the road, naked and bleeding, which was also seen by the judge as an act intended to kill them.
"18 internal injuries to several organs make these an act done with the certainty of causing death...there were no mitigating circumstances for committing this inhuman and brutal attack on the victim," said the judge.