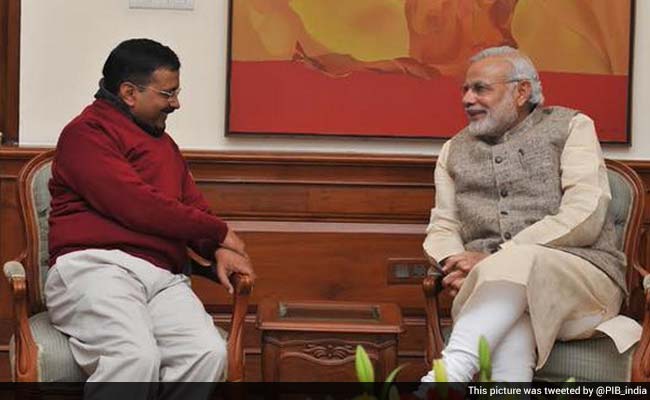 Highlights
Chief Minister Kejriwal thanks PM Modi for Twitter move
Seek more cooperation from Centre, tweets Mr Kejriwal
PM following political rivals like Rahul Gandhi on Twitter
New Delhi:
Delhi Chief Minister Arvind Kejriwal, with over seven million followers on Twitter, today added possibly the most high-profile follower to his list - Prime Minister Narendra Modi.
Mr Kejriwal, usually at odds with the PM, today reached out to him on Twitter and wished Happy Holi. Thanking PM Modi for following him, the Aam Aadmi Party chief said he hoped for better Centre-Delhi cooperation in the future.
.@narendramodi Sir, thank u for following me. Happy Holi. आज गिले शिकवे भूलने का दिन है। Hope better Centre-Delhi cooperation in future

Arvind Kejriwal (@ArvindKejriwal) March 24, 2016
Since Mr Kejriwal's AAP took power in February last year after winning a massive mandate in Delhi, it has been locked in a running feud with the central government over the control of important functions in Delhi like law and order, police and land.
In December last year, Mr Kejriwal had alleged that his office had been raided by the Central Bureau of Investigation and had called the PM a "coward and psychopath."
PM Modi, who follows nearly 1400 people on Twitter, is the
second-most followed Indian on Twitter
and the most-followed Indian politician with 18.8 million followers. The PM only trails actor Amitabh Bachchan who has nearly 20 million followers on the social network.
Mr Kejriwal is the second most followed politician in the country.
Active on Twitter since 2009, PM Modi is also the second-most followed politician in the world, right after US President Barack Obama.
PM Modi has used Twitter for initiatives like Make In India, Swachh Bharat, Mann Ki Baat and Selfie With Daughter to reach and connect with the citizens for development and progress.