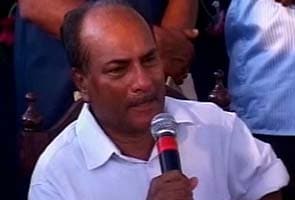 New Delhi:
The Defence Ministry has denied that Defence Minister AK Antony's office was being bugged, saying an investigation into "inconsistencies" found during a routine sweep has turned up no proof of any bugging device. In a terse press release issued this afternoon, the government said, "Reports of 'bugging' in South Block in a section of the media is hereby denied. Routine checks are conducted in the offices of Raksha Mantri and other officers in South Block. Nothing has been found in these checks."
Even the Defence Minister denied reports of his office being bugged. "This was a routine check and it keeps happening. There was no bugging... it is baseless" Mr Antony said this evening.
The Defence Minister's office and five other rooms in the ministry are randomly swept by intelligence wings of the three services - Army, Navy and the Airforce, twice a day. It was during one of these sweeps, called counter-measures, that the "inconsistency" had been found.
Sources tell NDTV that it all started when a routine Military Intelligence sweep detected traces of abnormal radio frequencies, in three places including the Defence Minister's office, on February 16 during a routine sweep. Military Intelligence used radio frequency detectors that can detect frequencies up to about six Giga Hertz. Subsequent checks showed no abnormal frequencies at one of the places but continued in the other two places, sources added.
A loose pin-like object is also believed to have been found in Mr Antony's office but checks didn't reveal anything wrong.
It is also understood, since number of important defence deals were being processed, Defence Secretary Shashikant Sharma was immediately informed by the Military Intelligence who then had asked the Intelligence Bureau (IB) to conduct a routine check. However, IB sources say the check revealed nothing.
In February, the government shortlisted the French-built Rafale for a $15 billion deal to supply India with 126 warplanes. The choice upset other countries like Germany and the UK, who had both bid for the same contract.
The BJP, meanwhile, took a dig at the Centre and said they shouldn't dismiss the incident as chewing gum again like they did in June last year, when traces of adhesives were found in Finance Minister Pranab Mukherjee's office.
"Bugging of Defence Minister's office is a serious concern, they cannot come out with a chewing gum theory again," said Prakash Javedkar, BJP spokesperson.
In June last year, it had emerged that Finance Minister Pranab Mukherjee had asked for an inquiry after traces of adhesives were found at 16 different places in his office in September 2010, leading to concerns that someone was trying to spy on his ministry.
Mr Mukherjee later dismissed allegations of a security breach; he said investigators had found the adhesives to be remnants of chewing gum, left behind by the cleaning staff.
In a letter to the Prime Minister in September 2010, Mr Mukherjee had requested a secret inquiry; he had, however, stressed that no secret cameras or microphones had been found in his ministry.
Mr Mukherjee originally asked for the Central Board of Direct Taxes to sweep his office, rather than the Intelligence Bureau which reports to Home Minister P Chidambaram.