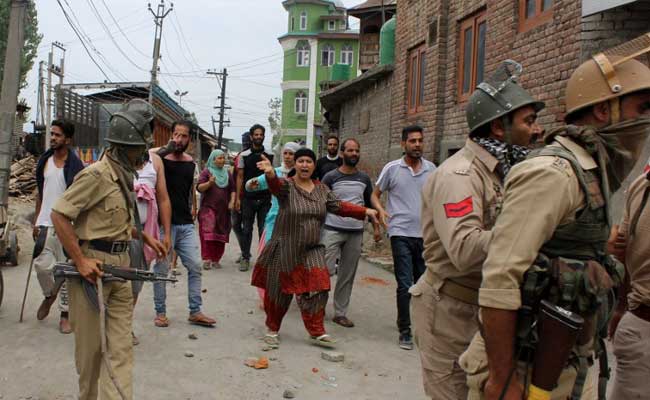 Highlights
The Valley has been under curfew for 29 days
More than 100 people have lost eyesight after receiving pellet injuries
Centre has told the Supreme Court that situation has improved in Kashmir
New Delhi:
Tension has spiked in Kashmir Valley after three more civilians including a student were killed in clashes with security forces on Friday. As protests intensified - with 200 demonstrations held across the Valley - more than 300 people were injured.
As protests spread to Chenab valley and the Pir Panjal region, the authorities tightened security. The Valley has been under curfew for 29 days.
Over the last four weeks of violence in the Valley, 55 people have been killed in firing by security forces and more than 3,000 people have been injured. More than 100 people have lost eyesight after receiving pellet injuries.
The Centre, however, has told the Supreme Court that said the law and order situation in Kashmir Valley has improved, triggering a scathing reaction from former Jammu and Kashmir chief minister Omar Abdullah.
1 more unfortunate death, countless injuries today & the centre tells the Hon SC that "things are improving" Wow!!!! https://t.co/GQaBJetdEl

— Omar Abdullah (@abdullah_omar) August 5, 2016
The Centre had told the top court that the violent protests having gone down from 201 on July 9 to 11 on August 3.
In a series of tweets, Mr Abdullah took on the state's BJP-PDP government, saying only they would agree with the Centre's view.
Seriously? By which stretch of imagination? I haven't met anyone in the valley except the BJPDP ostriches who agree! https://t.co/OhaXbo864G

— Omar Abdullah (@abdullah_omar) August 5, 2016
He also questioned what he called Prime Minister Narendra Modi's "silence" on the situation in the Valley.
Heart breaking & worrying in equal measure. At what point will the Centre (read Hon PM) wake up to the crisis here? https://t.co/WdcFlceviy

— Omar Abdullah (@abdullah_omar) August 5, 2016
In yesterday's clashes, 45-year-old Mohammad Maqbool was killed in Chadoora area of central Kashmir's Budgam district. After Maqbool's death, protests in the district intensified.
At Khansahib, which is in the same district, a man identified as Zahoor Ahmad was killed in clashes with security forces. A 12th class student, Danish Rasool, has also succumbed to his injuries after allegedly being shot by a pellet gun.