Shahdara, Delhi:
On a day that
Prime Minister Narendra Modi sent out a strong message to counter criticism of his silence on the mob killing in Dadri
of a Muslim man over rumours that he had eaten beef, and just a day after BJP leaders called for restraint from their flock, we entered the charged atmosphere of a temple compound in Shahdara in east Delhi.
We passed a heavy police contingent, which appeared to simply watch as dozens of young men milled around, raising pro-Hindu slogans.
One of them showed us a WhatsApp video of what had brought them here; two trucks had been stopped, they claimed, and these were carrying bulls for slaughter.
We were led to the leaders of the mob - Sarvendra Mishra, who says he is from the BJP's Delhi cow protection unit. Next to him was Satish Kumar of the Haryana-based "Gau Raksha Dal" or cow protection group.
Mr Kumar said not long after he entered Delhi on Thursday evening, he spotted the two trucks carrying cattle and forced them to pull over. He claimed the bulls were being taken from Punjab to slaughterhouses in Uttar Pradesh. "We cannot believe this is happening brazenly in Delhi," said Mr Mishra.
When we asked whether this wasn't taking law into their own hands, both men - and the gathered crowd - loudly protested. "We only stopped the trucks and called the police," they said.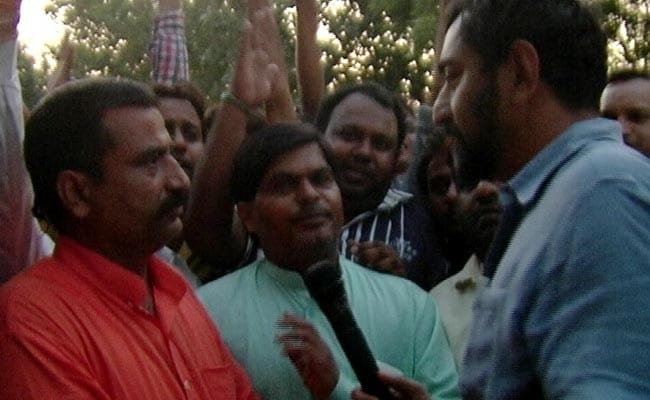 Except the "Gau Raksha Dal" doesn't just stop at blocking trucks.
They flaunt their excesses on YouTube. In one notorious video, Mr Kumar and his men are seen brandishing weapons and then driving off in a jeep. Later, they are seen stopping trucks with cattle, and mercilessly beating the driver and attendants. The video ends with the truck being set on fire.
Despite the outcry over Dadri - which exposed the deadly potential of cattle vigilantism - and the government's warnings, there appears to be no change in the attitude of these groups, nor any visible attempts to rein them in.
In the presence of BJP members and the police, Mr Kumar made an open threat. "Listen to me. Whoever takes away our mother cow to slaughter them and hurt our sentiments, then the people who believe in our culture, people of India will not tolerate it. If need be, we will kill them also."
A harassed looking police officer, making feeble attempts to disperse the mob, did not want to talk to us.
When we met Veenu Bansal, the Deputy Commissioner of Police, North East Delhi, he appeared more concerned about acting against the truckers, even though he said there was no proof of any wrongdoing yet.
"We will have to check their documents and see on what basis they were transporting the cattle. Then we can see if it was legal," he said.
The law in Delhi bans transportation and sale of cows and cow progeny for slaughter.
When we asked Mr Kumar and Mr Mishra to explain the crime that they had detected, there was confusion.
Mr Mishra said that the bulls were being transported in poor condition, which, he said, was a potential violation of animal cruelty laws.
But Mr Kumar insisted that they were being taken for slaughter. As proof, he waved at the bulls and said: "Look at their condition... Cattle in this condition can only be meant for killing." The bulls were old, and looked the worse for wear from their journey, hardly enough to tell that they were heading for the slaughterhouse.
The police admit that such shoot-and-scoot vigilantism based on the absence of clear proof can incite sectarian tension.
"There is a possibility that it could lead to communal tension," admitted Mr Bansal. "That's why we had adequate police forces there."
Yet bafflingly, at the end of the day it was the trucks carrying the cattle which were impounded, the drivers detained and the bulls seized.
The men leading the mob were free to drive off to find their next target.
(For more, watch Truth vs Hype: Dadri, Cow Vigilantes & Political Patrons at 9:30pm Saturday, 7:30 pm Sunday on NDTV 24x7)