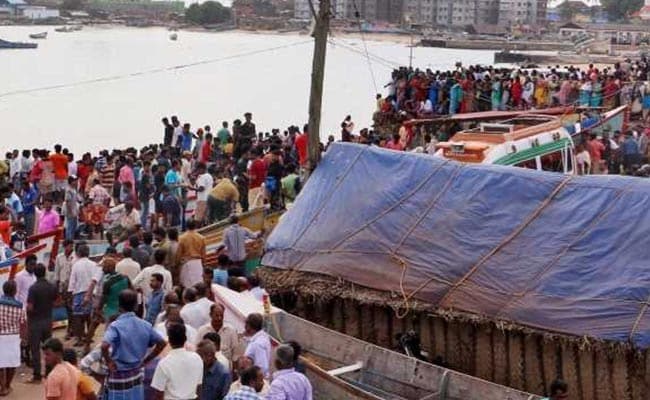 Poonthra, Kerala:
Clutching her four daughters, Selvi has been praying for a week at the St. Thomas church for a miracle that would bring back her husband, one of the 29 fishermen from Poonthra missing in the high seas after Cyclone Ockhi hit the coastal state of Kerala.
She is one of the many women who turn up at the church every morning to offer prayers and light candles, unwilling to give up hope that their loved ones would come home.
"Where will I go with my four children? My elder daughter is only seven-year-old and the other two are aged five and three," Selvi said weeping. "I have no house of my own... My husband's earning from fishing was our only source of income," she said.
A pall of gloom has descended on the area which otherwise should have been bustling with activities as Christmas is round the corner, Father Justin Jude, the vicar of the church said.
The church has put up a flex board carrying images of the missing men in front of it this morning.
Twenty-nine boats with 90 fishermen had sailed to the sea from Poonthra in the early hours of November 29. While 57 returned safely, four lost their lives and 29 are still missing, the vicar said.
Of the lucky ones to make it ashore safely, Suresh, a 40 year-old fisherman, said it was the "hand of god" which saved him from death.
"It is really a second life for me. The compass of my boat had started moving erratically as the boat was literally caught in the path of the cyclone," Suresh, who returned with two colleagues on the day Cyclone Ockhi hit the state, told news agency PTI. One of his close relative was still missing.
"I am going to sea for the past ten years... I have seen and experienced different stormy weathers... But, what we saw and faced this time was extraordinary and very powerful," he said.
About 38 people had gone fishing in trawlers on November 25 and 26. But, there is hope that they will come back as 12 of them returned safely today, people at church said, adding from nearby Adimalathura, 12 people are missing, of which 10 are from a single family.
Twenty-six-year-old Shyam, who had ventured into the sea with 12 others from Kochi port on November 28 said they were rescued by fishermen who came on another boat and were taken to Ratnagiri in Maharashtra.
"The locals gave some money and put us on a train to Kerala... We reached home yesterday," he said. His two elder sisters were ecstatic when they heard that he was safe.
However, for Pushpa Rani the wait is yet to end. She goes to church each day and prays till dusk for the safe return of for her husband, Silva Pillai, the sole breadwinner of the family.
The frail woman, who has not been eating, said she and her three children aged 17, 15 and 13 were clueless about their future.
"The government is saying they are searching for the missing men. No trace of them so far," Pushpa said.
Shalini, the wife of another missing fisherman, also prays at the church each day with an undying hope about her husband's return. "I hope we get a clue about them... We are hoping they are alive," she said.
Cyclone Ockhi, which hit Kerala coast on November 29 and 30, left a trail of destruction in which the official death toll in 29. The state government had yesterday said it has intensified search and rescue operations to trace 92 fishermen.