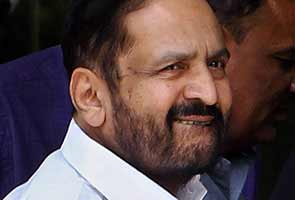 New Delhi:
The Central Bureau of Investigation (CBI) today named sacked Commonwealth Games boss Suresh Kalmadi as the prime accused in its first chargesheet filed in connection with the scam in the mega sporting event.
The sixty-page chargesheet pertains to alleged bungling in the Rs 141-crore contract for the Timing Scoring and Results (TRS) system.
The chargesheet says that Kalmadi as the Chairman of the CWG Organising Committee (OC) was the person with supreme powers and the overriding authority in awarding the contract.
He has been charged with conspiracy, forgery, misconduct and under provisions of the Prevention of Corruption Act.
Besides Kalmadi, eight other officials from the Organising Committee have been named as accused in the chargesheet. They include:
Lalit Bhanot, key Kalmadi aide and former Secretary General

VK Verma, former Joint Director General
M Jeychandran, Treasurer
Surjit Lal, Deputy Director General (Procurement)
ASV Prasad, Joint Director General (Sport)
Three others named in the chargesheet are still absconding.
The CBI had claimed in its FIR that the contract for TRS system was awarded by "wrongfully restricting and eliminating competition" from other suppliers in a pre-meditated and planned manner.
It had accused the OC officials of inflating the cost of contract causing a resultant loss of Rs 95 crore to the exchequer.