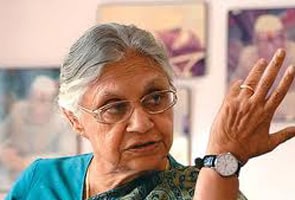 New Delhi:
Under pressure over the severe indictment by the Shunglu Committee, Delhi Chief Minister Sheila Dikshit today said its finding was "self contradictory" and criticised the panel for lack of understanding on the city government's role in conduct of the Commonwealth Games.
Rejecting the findings of the PM-appointed probe panel which indicted both Lt Governor Tejinder Khanna and her for alleged irregularities in certain Games projects, Dikshit denied any wrongdoing.
"If there is an instance of corruption against me, I certainly would be the first person to question myself...It was not my duty to go to project sites at midnight or 2 o'clock or 3 o'clock in the morning. I did everything possible so that India's image is not affected," Dikshit told PTI in an interview, a day after she met Prime Minister Manmohan Singh.
"I am not hurt by it (the Shunglu Committee report) or anything like that but I do feel that there has been a lack of understanding about what we did," she said, calling the report
"self contradictory."
"Broadly our observation is that some conclusions have been arrived at without adequate support of facts. Assumptions , presumptions have come. Secondly the report contradicts
itself...Show us a case of corruption. Just show us that this was a corrupt practice. We will take action." she said.
The Chief Minister, during a meeting with the Prime Minister on Monday, conveyed to him that the findings of the panel are "unfair" and "inconsistent".
"We stepped in where we were asked to step in, not otherwise. I had not even seen what the Games village looked like. If I was asked by (then Sports Minister) Mr M S Gill to
go to a particular stadium, I went there, happily went there. We did whatever we were asked to do," said Dikshit.
"We are going to answer paragraph-by-paragraph to the report. What surprised us was the report had not even come to us but it was available in the public domain. When something
comes on the public domain then you and I have a equal right to say what your understanding is and what our understanding is," she said.
Asked whether Shunglu committee ever sought her opinion before finalising the report, Dikshit said she did not know whether it had terms of reference to do that.
"I don't know whether it had terms of reference to do that. All that I know was that the Shunglu Committee perhaps asked many of our departments for papers," she said.
Criticising the findings, Dikshit quoting the report said "in the beginning it says, the Delhi of 2003 would have served for the Commonwealth Games in 2010. So why was there
all these wastes."