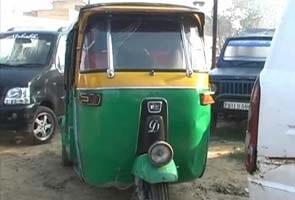 Ghaziabad:
"I cried for help for two hours," said a school girl to cops about a journey she made in an auto-rickshaw that ended with three men allegedly raping her near National Highway 24 in Ghaziabad, a suburb of Delhi.
Two of the three suspects have been arrested.
The grim lapses - the auto rickshaw drove through six police posts while she was pinned in the back by her abductors - mirror those that allowed the fatal gang-rape of a medical student on a moving bus in Delhi in December, shaking India into large protests and pushing the safety of women to the top of the national agenda.
On Saturday night, the girl left a mall in Ghaziabad a little after 8 pm. She hired an auto-rickshaw which had two men seated in the back. "Shared autos" are illegal but standard practice in this area, because they make commuting cheaper, and because there's a paucity of public transport.
The auto, the police said today, had been stolen by the driver and two of his friends.
For two hours, the auto travelled 25 kms. When the men had raped the teenager in a secluded area near the highway, they threw her onto the road. But not before robbing her of her cash and cellphone.
Police patrol vans that were on duty did not spot the auto, or the abandoned girl.
She walked to a dhaba or roadside food stall and asked for help.
In December, a 23-year-old medical student left a South Delhi mall with a male friend and boarded a bus on a Sunday night. The bus had been stolen. It rolled unstopped through police check posts though it had tinted windows, which are illegal. White lettering on the side declared it a school-bus. Yet, nobody stopped it to ask why it was on the road at night.
A gang of men on the bus hit Amanat (not her real name) and her friend with an iron rod, raped her, then threw the couple, naked and bleeding, onto the road.
Since then, the police has said that it has increased patrolling in areas like malls, which are visited frequently by women at night.
But yesterday, a report shared with parliament said this year, the number of rapes reported in Delhi has doubled. Four cases a day had been reported till February 15.