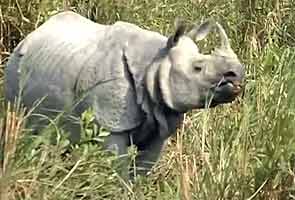 Jorhat:
A crackdown against poachers is underway by a joint team of Assam police, IRBN and forest guards in Burpahar range of Kaziranga National Park.
Armed with sophisticated weapons, the security forces launched the operation at 2 AM today at Kukurakota area of the range, forest department sources said.
A battalion each from the India Reserve Battalion (IRBN) and state police, with 100 personnel of the forest department, including guards, have fanned out in the interior areas of the rhino habitat to net poachers.
Security measures have also been tightened inside and along the park's boundary to prevent entry and attacks by poachers in the 430 sq kms World Heritage Site situated in Golaghat district of upper Assam, the sources said.
The crackdown was launched in the wake of poaching of eight rhinos in KNP since January this year. Rhino horn is prized for its aphrodisiac properties.
The state government has decided to divide KNP into four divisions under separate divisional forest officers to strengthen the management system and boost operational efficiency.
Shoot-at-sight orders could be considered in the Park to prevent poaching of rhinos and other wild animals, state Minister for Environment and Forest Rockybul Hussain has said.