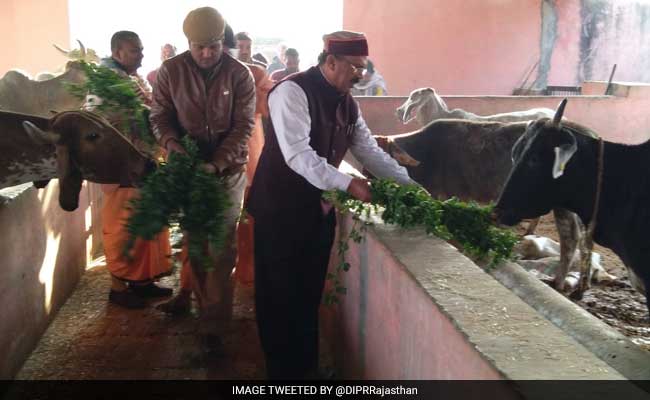 Jaipur:
Rajasthan Education Minister Vasudev Devnani today stood by the claims he made earlier that cows are the only animals that inhale and exhale oxygen despite sharp criticism both from scientists and in the social media. He based the claims on 'research magazine'. Mr Devnani had said that since cows inhale and exhale oxygen, cold and cough can be cured just by going near it.
Mr Devnani had made the claim on Saturday while speaking at a programme organised by Akshya Patra foundation at Hingonia cow rehabilitation centre."I read this fact on research websites and it recently appeared in a magazine of Akshya Patra, saying that cow inhales and exhales oxygen and included this in my speech on Saturday," the education minister today said.
To underscore the "scientific significance" of the "holy animal", he reiterated today this reference can be found in "research studies".
"The Gaumutra's benefits and its medicinal values are well known and people use and take its benefits. The burning of cow dung makes the environment free of harmful micro-organisms and mosquitoes, making the place suitable for living," he said further.
"Scientific journals and research papers are the base of my statements," he said.
"He (the minister) is talking out of his head. He is an engineer by profession... he should not have talked like this. Don't understand it really. Cow dung releases methane, which is a pollutant. He should have known it," a professor at Rajasthan University said on condition of anonymity.
On Twitter, too, Mr Devnani faced flak. While some talked about his educational qualification, others were very critical of his views.
One person wondered if the minister should be asked to resign for such comments.
Another tweet said: "The minister when ill should be put on a cow instead of a ventilator."
Cow dung neutralizes radioactive elements: Rajasthan minister Vasudev Devnan. He is definitely high on cow dung infused joint :D

— Sanjeev (@kumar_sanjeev) January 17, 2017
Following hon'ble Rajasthan education minister's statement, the government has ordered that inflight announcements be tweaked thus pic.twitter.com/ygBOUC3Hbt

— Colleen Braganza (@colleenbraganza) January 16, 2017
Cow is the only animal that inhales and exhales oxygen: Rajasthan minister
Jai Gaumata! Turned science on its head!

— NoToSilence (@akdwaaz) January 16, 2017
(With inputs from PTI and IANS)