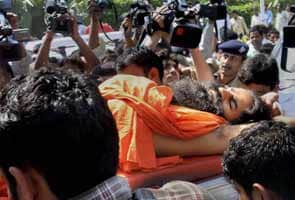 New Delhi:
The Supreme Court will resume hearing the petition on the alleged police violence at Baba Ramdev's 'dharna' at Ramlila Maidan at Delhi on June 4.
The Apex Court had taken suo moto cognizance of the case. The court also viewed the CDs of the police action.
The court had pulled up Delhi Police over the need to resort to teargas and lathi-charge in the closed enclosure when people were sleeping.
Delhi Police in their affidavit said that permission to use the Ramlila Ground was given for a yoga camp, and not for any other purpose. The large crowds became a serious security threat.
Senior minister Kapil Sibal said Baba Ramdev had given permission for a yoga camp for 5000 people but when over 50,000 people descended on the capital's Ramlila ground, the government "couldn't allow law and order to be disrupted."
Ramdev lashed out at the government calling Kapil Sibal "the most scheming man ever."
Ramdev had gone on a fast-onto-death campaign against corruption in the Ramlila Maidan in June but the yoga guru was evicted from Delhi after a lathi-charge at midnight by the Delhi police. Baba Ramdev initially escaped the police dressed as a woman. He was then found and escorted by the police to Palam airport.