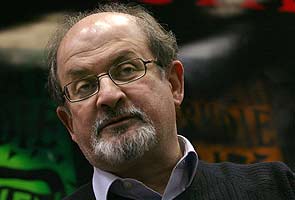 Jaipur:
The literary fest in Jaipur is drawing big crowds, but also bigger controversies, courtesy Salman Rushdie. The heated debate over several authors reading from his The Satanic Verses, a book banned in India, is still raging and so is the one on what kept Mr Rushdie away from the festival.
The controversial author, who had said in a statement that he did not attend the festival because he had information that hitmen were "on the way to Jaipur to kill me", has accused the Rajasthan government of inventing that theory to keep him away. "Rajasthan police invented plot to keep away Rushdie' I've investigated, & believe that I was indeed lied to. I am outraged and very angry," he tweeted.
The Rajasthan government has stoutly denied this, saying there was no conspiracy. The state government says it had Intelligence inputs from the Centre that were communicated to the organisers of the festival. Officials said no one from the state government had written to Mr Rushdie.
The state's Chief Minister Ashok Gehlot had met Union Home Minister P Chidambaram last week to discuss protests against Mr Rushdie's planned visit and security concerns that arose from those protests. Mr Gehlot had then said that no state government could ignore the potential law and order consequences of a controversy like this.
Mr Rushdie, winner of the Booker prize for his Midnight's Children, lived in hiding for many years after Iran's Ayatollah Khomeini issued a fatwa against him for The Satanic Verses, calling it blasphemous. Mr Rushdie has visited India several times since and had even attended the literary festival in 2007. This time, an Islamic seminary based in Uttar Pradesh called for protests against his proposed visit. The Darul Uloom Deoband had asked that his visa be cancelled; other Muslim clerics too called for protests.
In Delhi, sources in the Ministry of Home Affairs say there was some Intelligence input that a former functionary of the banned and now defunct organisation Students Islamic Movement of India (SIMI) was allegedly planning to target the author. There was also the chance that there would be a shoe-throwing incident or an attempt at disrupting law and order, the sources said.
The Centre has said it conveyed all the information it had to the Rajasthan government, where the buck stops on law and order.
In his statement read out at the festival on the first day, Mr Rushdie had said, "I have now been informed by intelligence sources in Maharashtra and Rajasthan that paid assassins from the Mumbai underworld may be on their way to Jaipur to 'eliminate' me." He later tweeted, "I was told Bombay [Mumbai] mafia don issued weapons to two hitmen to 'eliminate' me. Will do video link instead. Damn."
The Maharashtra police too has denied giving any such input at all to Mr Rushdie.
So who told Mr Rushdie, and what? The literary fest organisers say let us just get on with it. On the last day of the festival, tomorrow, Salman Rushdie will interact with people on a video link.