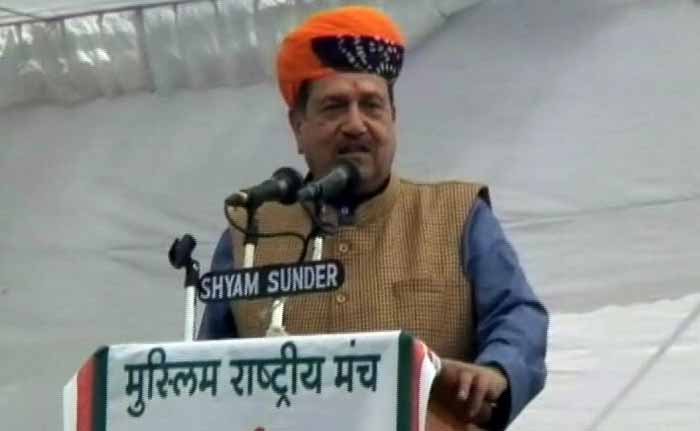 Ahmedabad:
The presence of Indresh Kumar, ideologue of Rashtriya Swayamsevak Sangh, at the convocation of the North Gujarat university in Patan on Monday, has triggered a controversy.
Mr Kumar is suspected to be a mastermind of the case involving the 2007 attack on the Ajmer dargah and RSS being the ideological mentor of the BJP, academicians and political parties have raised a storm of protest, calling it another instance of the "saffronisation of education".
Mr Kumar was the chief guest at the university's annual convocation, which was presided over by Governor OP Kohli.
"What kind of image are you trying to put across? Students have to take degrees from a tainted person? What impression are you leaving on young minds?" questioned noted academician Dinesh Shukla.
"They should have invited a scientist or an industrialist who could have helped them lay a roadmap for the future," said Congress spokesman Manish Doshi. "But by inviting him (Kumar), it proves that be it Gujarat or the country, there is an attempt to saffronise education."
With the invitation for the event described Mr Kumar as a social reformer and defence expert, university authorities have defended the decision.
"I have no idea about the blast case or if he's the accused, but he is an expert in defence affairs and has hold over the topic... I'm also an honorary colonel (of Army?) and I know about his background. That's why we invited him,'' said Vice-Chancellor Dr GL Godara. The
The Gujarat BJP has distanced itself from the controversy, saying that inviting "guests" were the prerogative of the university. None from the RSS was willing to comment.
The blasts of October 2007 at the Ajmer dargah had killed 3 persons. An RSS functionary, Sunil Joshi, had said it was carried out with the knowledge of Mr Kumar.
After Joshi was murdered, an accused in the blasts case had told the Rajasthan Anti-Terrorism Squad that Mr Kumar had also masterminded Joshi's murder.
Mr Kumar and the RSS have termed allegations against them as a conspiracy to defame the Sangh.