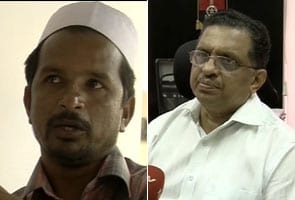 Thiruvananthapuram:
An America-based survey has hit communal sentiments in Kerala with a provocative questionnaire aimed at gauging the attitude towards America and Islam. Now the Centre has taken up the issue, with the Home Ministry demanding a report from the Intelligence Bureau on the survey.
Questions like these were asked:
Do you consider yourself an Indian first or Muslim?
What's your view on imposing Islamic law in India?

These are some of the controversial questions in the 83-page questionnaire, part of a survey done in a Muslim-dominated locality of Thiruvananthapuram a month ago.
The door to door survey by the Kochi branch of a Hyderabad-headquartered agency called TNS was carried out by a five-member all-woman team.
NDTV has a copy of the questionnaire that also asked the respondents:
Their views about the US administration and its policies and whether America is seen as anti-Muslim
The US war on terror, the Iraq invasion and their opinion on Iran
Residents of the colony in Thiruvananthapuram, where the survey was conducted, say it is the objectionable and controversial nature of the questions that made them alert the police.
"They asked us many questions that provoked us. Questions like whether you consider yourself as an Indian or a Muslim, your opinion of Osama Bin Laden, your view of the Indian military etc," said Afsal Khan, local resident.
Irritated by such questions, respondents called in the police after which the survey was stopped. The women were questioned and later released.
TNS authorities were called in who said they were doing the survey for the Washington-based Princeton Survey Research Associates.
"Since the survey had many questions with a communal overtone, we have registered a case of promoting enmity between various groups (Sec 153 A of IPC) and we are investigating the matter. We have also sought the help of the Central agencies on this," said Jacob Punnoose, Director General of Police, Kerala.
Despite repeated attempts by NDTV, the agency that did the survey did not take calls. Security agencies are also analysing the timing of the survey as it was done just weeks before US President Obama's visit to India.