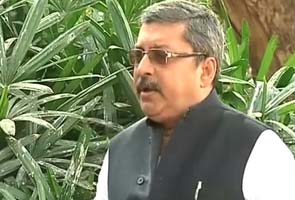 New Delhi:
In the midst of the uproar over the issue of FDI in retail, Parliament today witnessed a bitter spat between Trinamool Congress leader Kalyan Banerjee and Commerce Minister Anand Sharma after the former dubbed the minister as an "agent of corporates".
The incident occurred when Mr Banerjee, who was part of his party's team that was raising slogans in the Well of the Lok Sabha on the issue of FDI, was returning to his seat after the House adjourned for the day shortly after noon. An argument ensued between him and Mr Sharma which soon turned ugly and abusive, with the Trinamool MP being heard as saying, "Why you are so arrogant...When you will not be minister...even a dog will not run after you."
A furious Anand Sharma was heard telling Mr Banerjee to "be civilised", saying that he would complain about his him to his boss, Mamata Banerjee. "Whether I understand the country or not, you ascertain enthat from your leader Mamata Banerjee who has worked with me as a colleague. She would know," Mr Sharma told the Trinamool MP.
Other MPs and some ministers intervened and asked both of them to be seated.
Later, Minister of State for Parliamentary Affairs Rajiv Shukla was seen trying to pacify Mr Banerjee and asking him to calm down.
"I don't want to join issues with him. It is unfortunate. He was offensive and less than civilised," Mr Sharma later told Press Trust of India, adding that he did not want to take the issue any further.
(With inputs from PTI)