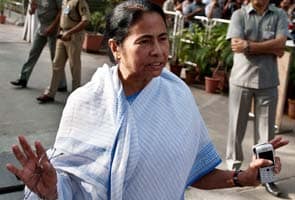 Kolkata:
A very angry Mamata Banerjee has demanded a rollback of the latest hike in fuel prices. The demand rode on the threat, "Don't force us into a political clash. If this is not rolled back, we will be forced to take to the streets."
Oil companies hiked the price of petrol by 70 paise on Monday, but there was a further hike in some states as the firms recalibrated rates to reflect changes in local taxes on Wednesday. Kolkata was worst hit - the price of petrol has effectively gone up by Rs 2.52 a litre to Rs 76.13. In Delhi, the price remained unchanged, while in Chennai, it actually went down by 97 paise. The price of diesel and LPG was also hiked on Monday.
Ms Banerjee who had just returned to Kolkata after spending Wednesday morning in New Delhi attending President Pranab Mukherjee's oath-taking ceremony, was livid. "The government has to review a situation before taking decisions...This is a suo motu decision by the Centre," she said, adding, "I was in Delhi this morning...nobody knew anything. Is this a government functioning? I am shocked. This is unfortunate. We will have to take to the streets and clash with the government."
The good vibes of the morning - Ms Banerjee flew to Delhi and back in a private jet sponsored by ally Congress - were a thing of the past. Ms Banerjee's lament was one she has made often. "Why haven't you consulted states?" she asked.
The West Bengal Chief Minister who has been on collision course for some time now with the UPA government her party, the Trinamool Congress, partners at the Centre, informed her electorate that "the state has not increased any price by a paisa." She also brought up her biggest peeve with the Centre, saying "They have not given us money, nor moratorium... they are sitting at home and taking decisions and blaming the states." Ms Banerjee has repeatedly demanded that West Bengal be given a three-year moratorium on payment on interest on huge Central loans. The Centre has not agreed yet.