New Delhi:
Highlights
Maharashtra sees massive strike called by Dalit groups
PM must comment on caste tension, says Congress in parliament
Congress inflaming tension, uses divide-and rule like British: BJP
As Maharashtra struggled today to remain calm
during a third consecutive day of caste tension, the government and the Congress exchanged angry accusations in parliament over the alleged targeting of Dalits.
Mallikarjun Kharge of the Congress alleged that "anti-Dalit violence is increasing" and said Prime Minister Narendra Modi's silence on the caste clashes in Maharashtra is astounding. "He can't stay mum! He is a '
mauni baba
' (mute spectator) on such issues," the Congressman said.
Ananth Kumar of the BJP then retaliated, accusing the Congress of inflaming caste tension.
"Instead of praying for peace in Maharashtra, the Congress is applying the divide and rule policy. They have replaced the British in using the policy," he said.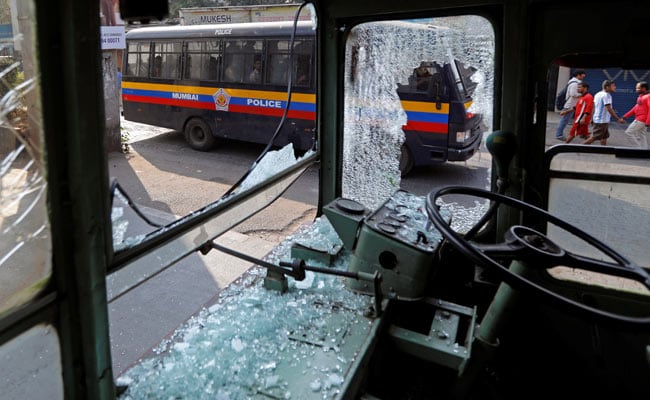 PM Modi, who is a member of the Lok Sabha, was not present and opposition MPs shouted slogans of "Ask him to come to the House." The Rajya Sabha was adjourned twice as the opposition protested over the Maharashtra clashes.
On Monday, as the New Year began, lakhs of Dalits gathered near Pune to mark the 200th anniversary of the Battle of Koregaon in which Mahar troops who were considered untouchable worked with the British to defeat the upper caste Peshwas. Some right-wing groups objected to what they described as a celebration of the British Raj's victory. A young man belonging to the upper caste of Marathas was killed in Pune in the violence. Maharashtra Chief Minister Devendra Fadnavis has ordered a sitting judge to determine how the man was killed.


Mumbai was tense all of yesterday with mobs, allegedly comprising of Dalit supporters, attacking buses and blocking train tracks. Nearly 160 public buses were vandalized, reported mid-day.com.
A massive bandh or shutdown was called today by Dalit leaders and supporters. At least 10 buses were damaged by noon, and some trains were running late. A crucial eastern freeway was also blocked sporadically.
Get Breaking news, live coverage, and Latest News from India and around the world on NDTV.com. Catch all the Live TV action on NDTV 24x7 and NDTV India. Like us on Facebook or follow us on Twitter and Instagram for latest news and live news updates.