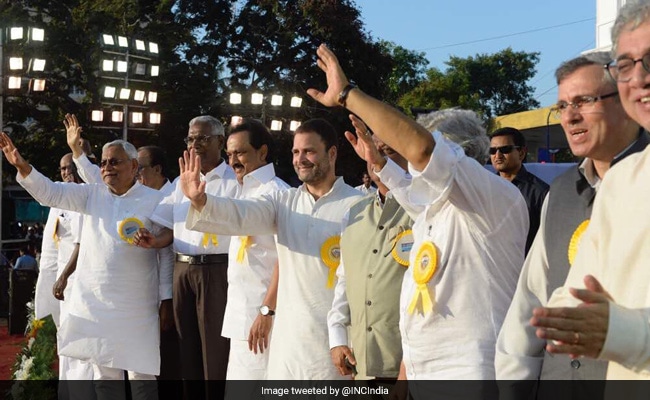 Patna:
Rahul Gandhi, who returned just days ago from a controversial foreign holiday, has reportedly refreshed his agenda to prioritise Bihar Chief Minister Nitish Kumar.
Rahul Gandhi, the 47-year-old No 2 of the Congress, has made it clear to his party that the alliance with Nitish Kumar in Bihar must be urgently restocked, a mission that he supposedly wants to lead, according to sources. He is also reportedly organising a meeting next week of opposition leaders, and will meet separately with Nitish Kumar on the sidelines.
Bihar is run by Nitish Kumar, Lalu Yadav's party, and the Congress. The Chief Minister spurned his partners last month by deciding that he will support the centre's candidate for President of India. The Congress and Lalu Yadav are part of a 17-party bloc that has put up a rival candidate. The burn for these parties is that Nitish Kumar was among the earliest and most ardent proponents of creating a combined, anti-BJP league that could use the presidential contest to experiment with teamwork ahead of the next general election in 2019.
Now, Rahul Gandhi has reportedly conveyed to Nitish Kumar that a meeting of opposition parties next week will be organised to suit the Chief Minister's convenience. Topics of discussion will include the distress of farmers, who are demanding loan waivers and better prices for their produce, the spate of mob attacks by self-declared cow vigilantes, and the lack of employment opportunities for young people.
Rahul Gandhi, sources in his party said, will also meet alone with Nitish Kumar.
Nitish Kumar says he's still committed to opposition unity, and that his support for the BJP on the issue of President is a one-off. But his decision stirred up considerable rancor within his Bihar alliance. Ghulam Nabi Azad of the Congress suggested the Chief Minister has flexible principles; he retaliated that the opposition is in "a mess" because its anchor, the Congress, is slow-footed. He also warned that unless the opposition pivots from a "reactionary narrative" to an "alternative narrative", it will fail in exciting public imagination.
Rahul Gandhi chose to fly abroad as his party was trying to identify a united opposition candidate for President; he did not rush back when the alliance in Bihar appeared to breach the danger mark. His party says his mother, Congress chief Sonia Gandhi, was here to handle the crisis. But given that he is expected to take her place as top boss by October, his absence was read as a lack of commitment, an accusation frequently levelled at him by critics.
The Bihar Chief Minister, his aides claim, accepts that the Congress alone can bind opposition parties together, and is open to suggestions from Rahul Gandhi on how the anti-BJP league should proceed.
However, his recently-acquired habit of backing the centre on issues attacked by the rest of the opposition- demonetisation, the rollout this month of the landmark GST sales tax - has signaled that Nitish Kumar is open to, if not actively soliciting, switching his team ahead of the national election.