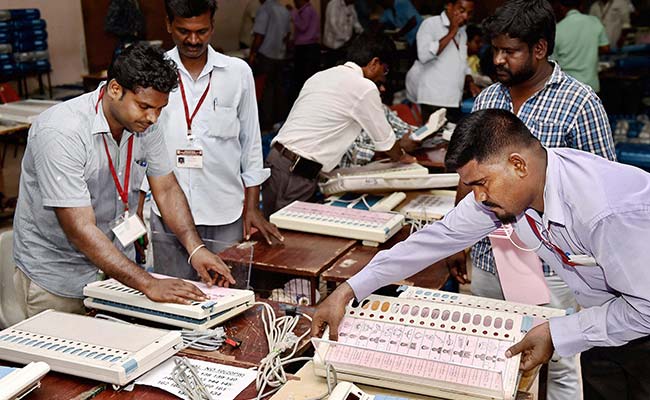 Highlights
Election Commission confronting accusations of rigged EVMs
Hackathon planned for May; before that, a demo for all parties
13 parties, led by Congress, have formally complained about EVMs
New Delhi:
After a litany of complaints about Electronic Voting Machines (EVMs) being vulnerable to manipulation, the powerful Election Commission has announced that at the start of May, it will hold a hackathon where non-believers can attempt to rig the machines. Before that, the Commission will meet with leaders of all major parties to conduct a demo and illustrate that the machines cannot be reconfigured to suit political parties. Dates for both events have not yet been confirmed. Sources said that hackers will be asked to visit the Commission's office in Delhi over 10 days and try their luck.
Delhi
Chief Minister Arvind Kejriwal
, an IIT graduate, has been asking for access to a voting machine, claiming that it will take him 24 hours to prove it can be gamed. His complaint was made after his Aam Aadmi Party defied expectations for a ho-hum performance in Punjab after exit polls predicted that it would either win the state in March or lock the Congress into a tight finish.
Mr Kejriwal has said that EVMs should not be used in the approaching municipal election in Delhi, which will test his popularity mid-way through his term.
However, because of his accusation of the Punjab result being inaccurate, he was not invited by the Congress to a front of 13 parties that have formally complained about EVMS being fixed for the recent elections in Uttar Pradesh and Uttarakhand, states that chose the BJP with an over-whelming margin. The Congress has conveniently not referred to any misappropriation of EVMs in Punjab, its sole electoral win in recent years.
"If EVMs were fixed, I would not be siting here, the Akalis would be," said Congress leader and Chief Minister Amarinder Singh to NDTV today, referring to his success in Punjab.
Parties like Mamata Banerjee's Trinamool Congress flanked the Congress in a request to the Election Commission and then President Pranab Mukherjee for old-school voting with ballot papers for the next round of elections in states like Gujarat and Himachal Pradesh.
The Congress and other parties have referenced some recent media reports which
claimed evidence of malfunctioning EVMs
. At the end of March, an EVM being used for a demonstration by electoral officers in Bhind in Madhya Pradesh appeared to issue a paper receipt for the BJP, though the button pushed was for a candidate from another party. The Election Commission said an inquiry revealed that the machine was accurate.
They rallied together against EVMs after a demonstration in Bhind in Madhya Pradesh appeared to show that no matter which button was pressed (each button is placed against a different candidate), the paper or "receipt" that falls into a box (that is sealed) registered the vote for the BJP.
The opposition says that by refusing to release funds sought by the Election Commission to buy new voting machines (VVPATs) for the next general election in 2019, the government has exposed its proclivity for malpractice. VVPATs (Voter-Verified Paper Audit Trail) are machines that dispense a paper receipt that is visible to the voter before it falls into a sealed box. Not enough of them are used in elections, the opposition said.