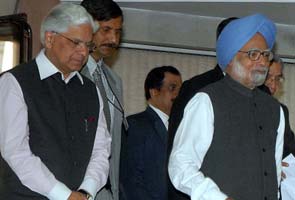 New Delhi:
Law Minister Ashwani Kumar may have instigated a major ignominy for the government, but for now, he has the Prime Minister's support, said sources in the Congress, which has reportedly concerned a section of the party.
Mr Kumar asked the CBI last month to show him its report on its coal investigation before it was submitted to the Supreme Court. He suggested changes to the document. Last week, the CBI admitted in court that the report was also shown to a bureaucrat each in the Coal Ministry and the Prime Minister's Office.
The Supreme Court responded on Tuesday with a catalogue of recriminations for the CBI, which also indicted the government for trying to control what's meant to be an independent investigation agency. (
Coal-Gate: "Erosion of faith," says Supreme Court about CBI sharing report with govt
)
After the stormy court hearing, the Law Minister met with the PM, but did not offer to resign, which has antagonised many senior leaders in his party, who believe it is untenable for him to remain in office, "There is no advantage in brazening it out," a source told NDTV.
"Whatever action is called for will be taken after I study the Supreme Court observations," the PM said after meeting Mr Kumar on Tuesday afternoon. This evening, at a meeting of senior party leaders including Congress chief Sonia Gandhi, the court's recriminations were discussed along with the likely political consequences.
The opposition has said that the Law Minister and Prime Minister must both resign for trying to interfere with the CBI's enquiry into how the government assigned coal fields to private players without a transparent bidding process.
The CBI on Tuesday gave the Supreme Court copies of the report that was screened by the Law Minister, and the actual report that the agency supplied. A comparison could establish the extent of the government's influence, if any.