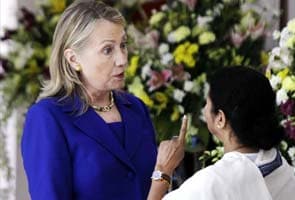 Kolkata:
Did Mamata Banerjee and Hillary Clinton discuss FDI in retail? Or did they not? An unseemly row has erupted between the West Bengal government and the US consulate in Kolkata on this issue. The consulate, in a press release yesterday, said investment in the retail sector was discussed. But finance minister Amit Mitra shot off an angry rejoinder saying it was not. Before meeting Mamata, Hillary Clinton had told NDTV multi brand retail was on her agenda. After the meeting Ms Banerjee had categorically said FDI in retail was not discussed at all. The Left is making the most of the row.
After their hour-long meeting at Chief Minister Mamata Banerjee's office, Writers Buildings, starting about 11 am, there was no joint press conference. It was not scheduled. So no one was surprised by that.
But within an hour of the meeting, Mamata Banerjee emerged to address the media and said, at least three times during the press conference, that the FDI issue had not been discussed.
"Let me tell you very clearly. Teesta. No. They didn't raise. FDI. No. They didnt raise it," Mamata Banerjee said on being repeatedly questioned about the two issues.
Her statement did cause some surprise. Because less than an hour before meeting Ms Banerjee, Hillary Clinton told NDTV's Barkha Dutt at a townhall style meeting in Kolkata that FDI in retail was definitely on her agenda for talks.
"I also understand politics. A lot of these decisions are difficult and have to wait. We will certainly raise United States desire to try to open the market to multi brand retail," Ms Clinton had said.
But surprise turned into shock when, at about 6.30 pm, the US consul general in Kolkata issued a press release that Hillary Clinton had touched upon issues several issues "ranging from increasing US investment in West Bengal, including in the retail sector" and so on. The press release seemed to clearly contradict Mamata Banerjee.
What happened next was even more curious. Around 830 pm the government released to the media a letter from Finance Minister Amit Mitra to US Consul General Dean Thomson. And in that letter, Mitra categorically stated that "the US secretary of State did not mention FDI in retail when speaking to the chief minister...."
Mr Mitra went on to say, "I urge you unequivocally and strongly that the mention of investment in retail sector be avoided in your press statement."
He was the only minister who was with Mamata Banerjee when she met Hillary Clinton.
But the grammar in Amit Mitra's letter remains a little confusing. Did he write to the consul general before the release of the press statement? Or after? Some sources say the consulate sent the government a draft of its press statement. In that draft, the word "retail" was not mentioned. Later in the evening, Amit Mitra learnt that the term "retail" was being included in the final press release. That's when he wrote to Dean Thomson.
If this is the sequence of events, then one can understand Mitra saying in his letter that "mention of investment in retail sector be avoided in your press statement."
However, there were no clarifications forthcoming from either side today. The US consulate stonewalled all queries. Amit Mitra, who attended the celebrations of Tagore's 150th birth anniversary along with Mamata Banerjee, refused to say a word about the controversy.
"I will not...I will not say anything...I apologise...please don't do this," he told persistent reporters.
So the question remains unanswered: did they or did they not discuss FDI in retail?
It is a controversy the CPM is making the most of. "Hillary Clinton didn't come to Kolkata to have a cup of tea or see Victoria Memorial," said CPM's Mohammedd Salim. "When Hillary came all the way, before that the release in Washington said here also observers said FDI in retail is on the agenda. They have discussed it. And Mamata Banerjee has to answer why this hide and seek."
Politics over the controversy is inevitable. But it is something Mamata Banerjee could have done without. Just short of completing one year as West Bengal Chief Minister, the Hillary Clinton visit had come as big feather in her cap. After the FDI row, that feather is looking a little limp.