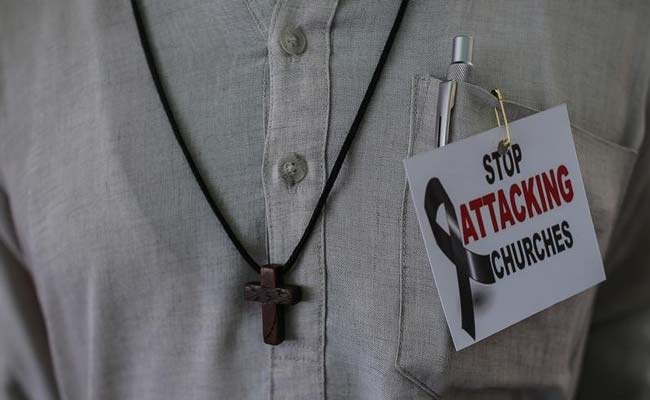 Kolkata:
Christians in India said on Monday that the government of Prime Minister Narendra Modi has not done enough to protect their religion, after a spate of attacks including the rape of a 72-year-old nun in Bengal over the weekend.

Christians prayed and held vigils across the country to protest against the rape during an armed assault on a Bengal convent school, the worst in a series of incidents that followers of the faith say are making them feel unwelcome in their own country.

The motive for the assault and armed robbery in West Bengal on Saturday was not clear. Police said they have detained 10 people who broke into the Convent of Jesus and Mary School in Nadia district, northeast of Kolkata. The man suspected of rape has not been caught.

The rape victim who is still in hospital has appealed for peace. " The nun has said she has forgotten the incident, has forgiven the crime and has asked all to pray for the culprits," said Sister Amala, who visited the assaulted nun this morning.

A few days ago, a Catholic church being built in Haryana was vandalized; its cross was removed and a small statue of the Hindu god Hanuman was placed in the church.

Father Savari Muthu, spokesman for the Delhi Catholic Archdiocese and a national Church organiser, said, "We have to raise our voice against the atrocities. Christians will not tolerate this humiliation."

Father Muthu said schools across the country were holding prayer meetings on Monday. Christians held a silent protest in the streets of Mumbai on Sunday.

Weeks ago, Mohan Bhagwat, the leader of the Rashtriya Swayamsevak Sangh (RSS), suggested that the charitable work of Mother Teresa had been aimed at religious conversion.


Critics say the remarks by the chief of the RSS, the ideological mentor of the ruling BJP, contributed to a climate where Christians are seen as outsiders, despite a more than 1,500-year presence in India.
"I am not Indian any more, at least in the eyes of the proponents of the Hindu Rashtra," prominent retired police chief Julio Ribeiro wrote in a column for the Indian Express paper.
The RSS has condemned the rape of the elderly nun.
"No attack should be tolerated on any woman in India. Be it a Hindu, a Muslim or a Christian," Suresh Joshi, RSS general secretary, told reporters on Sunday.
Opposition lawmakers in the Rajya Sabha or Upper House of parliament on Monday said the attack could damage the secular fabric of the country, where about a fifth of the population belongs to faiths other than Hinduism.
Since December, half a dozen churches have been vandalized.
In February, shortly after U.S. President Barack Obama called for respect for religious freedom in India, PM Modi broke a long silence on the subject and, speaking at a church event, vowed a crackdown on religious violence.
© Thomson Reuters 2015