Guwahati:
It was a unique New Year's gift. Troopers of the Peoples Liberation Army of China and local Chinese villagers danced to the Bollywood number 'Jai Ho' during the Border Personnel Meeting (BPM) with the Indian Army on January 1 at the India-China border in the Chengdu Province of China, bordering Eastern Arunachal Pradesh.
"This time the meeting was marked by a novelty. After paying respects to the national flags and playing of the national anthems, the Chinese soldiers surprised and enthralled the audience with their performance of Hindi Bollywood songs. The Chinese women soldiers performed a scintillating dance on the rendition of the group songs by Chinese men," said Guwahati-based Defence spokesperson Lieutenant Colonel Suneet Newton.
The Chinese troopers danced to the film numbers 'Jai Ho' and 'Ankhe Khuli Ho Ya Ho Bandh.' They had been preparing for the performance for a month, Army sources added.
The ceremonial Border Personnel Meeting (BPM) with China is a regular New Year's affair. This time, the meeting was held at Damai of Zayu Garrison in the Chengdu Province. The Chinese delegation was led by Senior Colonel Hu Xiao Bao and the Indian Army delegation was led by Brigadier SS Bhogal.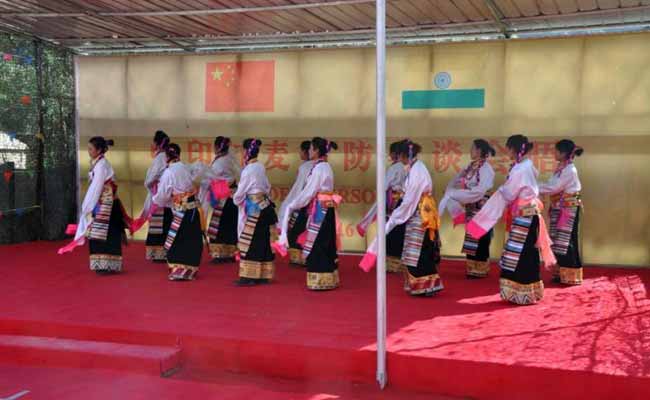 Arunachal Pradesh shares a 1,030-km unfenced border with China. The McMahon Line, an imaginary border now known as the Line of Actual Control (LAC), separates the India-China border along Arunachal Pradesh, a state that China claims. The region has seen several alleged Chinese incursions in past.
Yet another BPM was held on January 1 on the Indian Side at Bumla in the remote Tawang district of Arunachal Pradesh where the troppers from India and China jointly ushered New Year in extremely chilly weather conditions.
The Indian Army troopers put up a Pipe and Jazz band performance for their Chinese counterparts. The bonhomie comes as time when India plans to double the number of troops guarding the India-China frontier in Arunachal Pradesh.