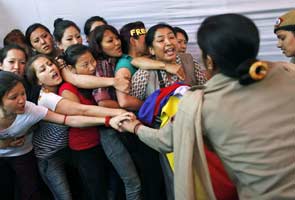 New Delhi:
China's president, Hu Jintao, has arrived in Delhi for the fourth BRICS (Brazil, Russia, India, China and South Africa) summit. Worried about protests, the police has been detaining Tibetan activists in the capital, provoking strong criticism.
Here are five new facts on the story:
1) A man who set himself on fire in Delhi on Monday at a rally died in hospital this morning. Jamphel Yeshi was 27.
2) Around 1200 cops have been posted around the hotels where The Chinese premier and the delegation will be staying. Earlier, the protesters had attempted to storm Hotel Oberoi in Delhi where Chinese premiere Hu Jintao is staying. Police have arrested the protesters. This morning, the police detained 100 activists who were protesting against Hu's visit at the United Nations office. Over 150 Tibetans have been taken in to preventive custody during the protests today. The Tibetan Youth Congress members were submitting a memorandum to embassies of all nations participating in the BRICS summit. Protests were also held at Khan Market and Jantar Mantar. There is heavy police presence in these areas.
3) The police removed activist-poet Tenzin Tsundue from a seminar yesterday at the India habitat Centre. The police is keeping a tight vigil in areas in Delhi with high Tibetan population to ensure that young Tibetans don't come out of their homes to protest.
4) China has accused the Dalai Lama of "masterminding" self-immolation bids earlier this week. At least 29 Tibetans, many of them Buddhist monks and nuns, have set themselves on fire in Tibet demanding freedom for their homeland.
5) The Chinese President will attend the BRICS summit which looks at encouraging trade among member-nations. He will also hold bilateral talks with Prime Minister Manmohan. The Chinese president is accompanied by a high-profile delegation comprising Foreign Minister Yang Jiechi, State Councillor Dai Bingguo, senior ministers and business leaders.