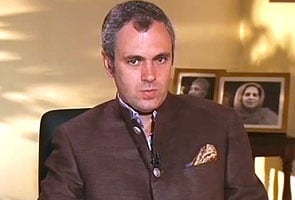 Jammu:
In an effort to promote tourism and facilitate the movement of people of Kargil which remains cut-off with other parts of the state during winter, Chief Minister Omar Abdullah on Monday launched a commercial air service to the mountainous area.
Omar and several state ministers took the first flight of scheduled regional airline Air Mantra from Jammu to Kargil and took stock of the arrangements made to air connect the mountainous belt.
The air service was all more required as the area remains disconnected with other parts of Jammu and Kashmir during winter and the national highways are blocked for most part of the season, he said in a function at Kargil.
The air service will keep Kargil residents connected with the state and also promote tourism, he said.
Omar stressed upon the need to put in place all statutory requirements and safety measures for the air service and said he would take up the issue of subsidising the air fare for people to help them utilise the service especially during the winter months.
After the commencement of the construction of Z-Morh tunnel, the air service to Kargil is another positive news for Kargil residents, he said.
Kargil has a great potential of tourism and to explore the opportunity there is an urgent need to improve, upgrade and construct befitting tourist infrastructure which cannot be done by the government alone but people and private parties have to contribute in this task equally, he said.
"Yours is one of the most beautiful areas in the world and to rope in tourists from all over the world requires us to build required tourist infrastructure here", he said.
"I am the most fortunate Chief Minister of the state as the historic event of air service to Kargil is taking place in my tenure for which so many Chief Ministers cherished and worked," he said.
On the occasion, he appreciated the decision of Air Mantra to start the air service from Jammu to Kargil.
He underlined the need for similar air connectivity from Srinagar and said that it would open the area for global tourism.
He said Kargil has a great potential for power generation and this potential is being harnessed by launching many small and medium power projects in the area.
Omar said the completion of Srinagar-Leh Transmission Line would encourage the launch of projects in Leh and Kargil districts. "Through this transmission line we would be able to extract surplus power from this region," he added.