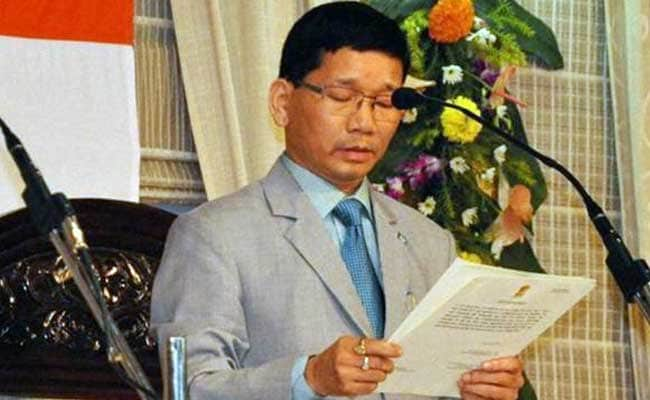 Itanagar:
New Arunachal Pradesh Chief Minister Kalikho Pul today proved his majority on the floor of the Assembly with the support of 40 legislators.
The 40 MLAs who lent support to Mr Pul comprised 27 of Congress, 11 of BJP and two independents. The nine Congress MLAs of the camp of former chief minister Nabam Tuki shifted their allegiance to Mr Pul yesterday and voted for him. The Speaker did not vote.
The 17 Congress MLAs loyal to Mr Tuki were absent following CLP chief whip (Tuki group) Rajesh Tacho's stern direction to the party MLAs yesterday to abstain from voting in support of Mr Pul.
However, chief whip of Congress Legislative Party Pema Khandu had issued another whip directing the party MLAs to vote in favour of the incumbent chief minister.
Mr Pul, sworn in on February 19 when Central rule was withdrawn from the state, had moved the motion of confidence in the House immediately after election of Wangki Lowang as the new Speaker to prove his strength.
Participating in the motion, Mr Pul said several attempts were made to meet Congress president Sonia Gandhi in New Delhi but appointments were denied.
"We have requested the party high command for change in leadership but did nothing against the Congress party... Our government will be a Congress government with outside support from BJP and two Independents," he added.
Ridiculing Mr Tuki's claim that he still has the numbers, Mr Pul said "Whoever has the majority can form the government. In a House of 58 members, 30 MLAs are required to form the government and we have support of 41. Moreover, to become the CLP leader, support of only 23 members is required and I have 28 with me," he said.
Criticising Mr Tuki, the new chief minister alleged that there was no consensus during the former's regime as he ran an "autocratic government" and the state's financial position was in bad shape.
"The state recorded an over draft of Rs 1,253.14 crore with RBI during the last three years for which the state government was unable to provide salaries to the employees in time," he said.
The Chief Minister said he has full faith in the judiciary and whatever was done to form the government was in accordance with the constitutional provisions.
"Government formation and floor test have no links with the ongoing court cases," Mr Pul said and assured to bring out a white paper on state's financial health soon besides continuing the corrective measures adopted by Governor J P Rajkhowa during the central rule in the state.
(This story has not been edited by NDTV staff and is auto-generated from a syndicated feed.)