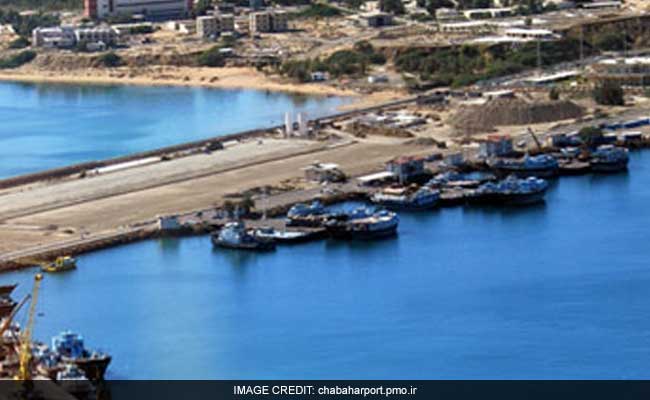 New Delhi:
The government is hopeful that the strategic Chabahar Port in Iran will be operational by the end of 2018, Union Minister Nitin Gadkari said on Wednesday.
He further said that the port would be a "win win" situation for India, Iran and Afghanistan as it would serve as a "growth engine" for the entire region.
Chabahar port, located in the Sistan-Balochistan province in the energy-rich Persian Gulf nation's southern coast, lies outside the Persian Gulf and is easily accessed from India's western coast, bypassing Pakistan.
"We are hopeful of starting operations at Chabahar Port by the end of 2018. It will be a win-win situation for India, Iran and Afghanistan as trade and business through this route could reach to even Russia and Europe," Shipping, Road Transport, Highways and Water Resources Minister Gadkari said at an event in Delhi.
"India can be a big market for Iran and investors from here can invest there," Mr Gadkari said adding that Iran is expected to send an application to the EXIM Bank of India for providing first tranche of loan from the USD 150 million credit line.
For greater trade and investment flow with Iran and neighbouring countries, the Cabinet last year cleared proposals for development of Chabahar port including a USD 150 million credit from Exim Bank.
It also authorised the shipping ministry to form a company in Iran for implementing the Chabahar Port Development Project and related activities.
As per the MoU signed between the two nations in May last year, India is to equip and operate two berths in Chabahar Port Phase-I with capital investment of USD 85.21 million and annual revenue expenditure of USD 22.95 million on a 10-year lease.
Ownership of the equipment will be transferred to the Iranian side on completion of 10 years or for an extended period, based on mutual agreement. The Iranian side had requested for provision of a credit of USD 150 million in accordance with the MoU.
Mr Gadkari said the contract for four key mounted quay cranes at Shahid Beheshti Port, Chabahar, has been finalised. The minister said bottlenecks for the project have been removed and work was likely to be fast-tracked.
Last month, the minister had been to Tehran as a special envoy of India deputed by Prime Minister Narendra Modi at the inauguration of the second tenure of Hassan Rouhani as the President of Iran.
During his visit, both sides had reiterated their commitment to complete and operationalise the port at the earliest that would contribute to bilateral and regional trade and economic development and also provide alternate access to landlocked Afghanistan to regional and global markets.
On trilateral transit and transport agreement, Mr Gadkari said India is hopeful of commencement of the work soon. The trilateral pact was inked during Prime Minister Narendra Modi's visit to Tehran in May 2016.
The pact envisages establishment of Transit and Transport Corridor between India, Iran and Afghanistan using Chabahar Port as one of the regional hubs for sea transportation in Iran besides multi-modal transport of goods and passengers across the three nations.
The Cabinet and the President had ratified the pact in November and December, 2016 respectively.
India has already built the Zaranj-Delaram Road in Afghanistan where the cargo reaching Zehedan can connect to.
The rail route is aimed at connecting the existing rail network of Iran at Zahedan, and subsequently to Mashad in north area, thereby providing access to Turkmenistan as well as northern Afghanistan through its connection to the Bafq-Mashad route.
This project will significantly enhance the opportunity for trade and business among the nations.
Chabahar-Zahedan Railway line project is located in the Sistan-Baluchistan province in eastern Iran.
Besides, the bilateral pact to develop the Chabahar port, for which India will invest USD 500 million, a trilateral Agreement on Transport and Transit Corridor has also been signed by India, Afghanistan and Iran.