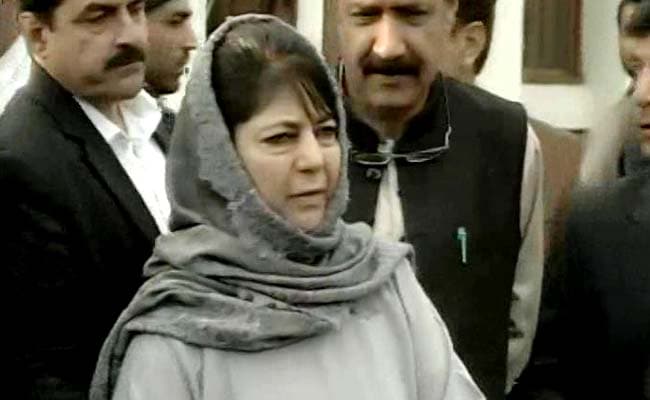 Highlights
Ask her (Mehbooba Mufti) how she will implement it: Kashmir interlocutor
Officials said Kashmir ground reality now is quite different from 2000
Terrorist attack during Amarnath Yatra killed eight pilgrims last year
New Delhi:
As she pitched for a
ceasefire in the Kashmir valley
, Chief Minister Mehbooba Mufti invoked former Prime Minister Atal Bihari Vajpayee's initiative 18 years ago to back her case.
Hundreds of kilometres away in Delhi, the centre's top security officers too cited former PM Vajpayee's short-lived initiative in 2000 to make the opposite point. They also argue that the experiment was conducted only after the security establishment had spent a considerable time doing the ground work.
"Ask her how she will implement it," Dineshwar Sharma, the centre's interlocutor for Jammu and Kashmir told NDTV. Mr Sharma, a retired intelligence chief, was last year tasked to carry out a "sustained dialogue" with all stakeholders in Jammu and Kashmir.
Officials told NDTV that there is also a world of difference in the situation in Kashmir valley now compared to what existed in 2000.
"In 2000, when the ceasefire was announced in the month of Ramzan, we had an upper hand. Right now, such a step would be seen as a point of weakness," said a senior home ministry official.
Sources say the ground reality is quite different from what it was 18 years ago. "At that time, the terrorists did not have mass support like they do now."
The refrain in the security establishment seems at odds with what political parties in the state want. "It should be other way round. Let the terrorists say they will not indulge in any violence during Ramzan and Amarnath Yatra," said a senior army official.
Last year, a
terrorist attack during the Amarnath Yatra
had killed eight pilgrims.
Barely two months after the ceasefire was announced in November 2000, a heavily armed suicide squad had tried to storm the airport on the outskirts of Srinagar. All six terrorists belonging to the Lashkar-e-Toiba, who threw grenades at the main gate of the airport, were gunned down but two civilians and two security personnel also lost their lives.
The ceasefire had raised hopes of peace but most terrorist groups rejected the offer.