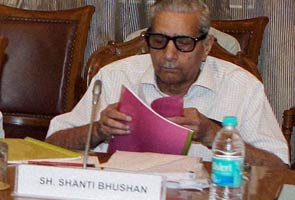 New Delhi:
The special cell of the Delhi Police today questioned lawyer and activist Shanti Bhushan in relation to the controversial CD purportedly containing a conversation between Mr Bhushan and Samajwadi Party (SP) chief Mulayam Singh Yadav and former SP leader Amar Singh.
The CD purportedly contained a conversation where Mr Bhushan had allegedly promised the two politicians that a judge could be influenced for a price. On the CD, a voice that resembled Mr Bhushan's was heard suggesting that a judge could be bribed for four crores for a desired verdict and his son and lawyer Prashant Bhushan would facilitate this
The Bhushans had said that the CD had been doctored. Mr Bhushan said the voice was his, but that tapes had been spliced together to present a dishonest narrative.