Surat:
As several places in the country
reported cash shortage at ATMs,
a banker's body in Gujarat has written to the RBI on the issue. At several ATMs across Gujarat, a "no cash" notice greeted customers on Tuesday. Hassled consumers say the problem has persisted for at least 15 days.
At an ATM in the Lambe Hanuman Road area in Surat, a man who had been to the ATMs of several banks told NDTV, "There is no cash. Banks are asking to do digital transactions and then charging us for it. Why should we pay so much extra money?"
Bankers say the s
hortage is because of the increasing demand in cash
ahead of the kharif sowing season.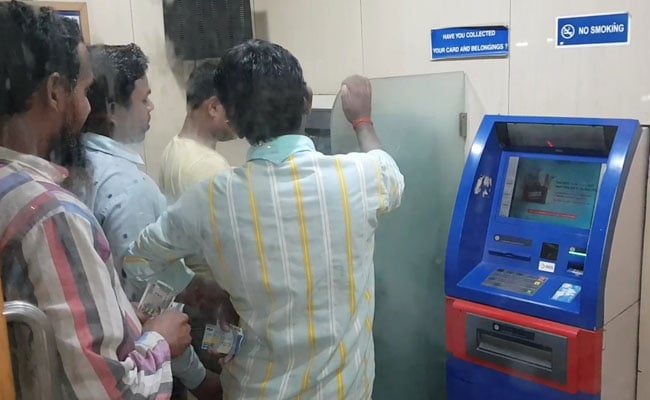 But they also say banks have started receiving lesser cash than required from the RBI leading to rationing of cash disbursements at several banks in parts of Gujarat.
The Gujarat Urban Cooperative Banks Federation says the shortage is also being felt at 257 currency chests across Gujarat from where banks collect currency notes. While private banks seem to be managing the situation somehow, co-operative banks have been more affected by the shortage. The Gujarat Urban Cooperative Banks Federation has written to the RBI on this issue.
Jyotindra Mehta, Chairman of the Gujarat Urban Cooperative Banks Federation told NDTV, "There is a lesser supply from RBI and there is an increased demand in the last fifteen days as agriculturists have come forward to sell their produce and they demand cash. Also this cash that they take is not deposited in their accounts."
While Surat is a city that sees a lot of cash transactions due to the textile and diamond businesses, the spike in demand for cash is being attributed to rural demand. However some fear with the Karnataka elections approaching, some of the cash may be diverted towards the funding of elections.
The cash shortage is affecting business and that is why trade and banking bodies are asking the Reserve Bank of India (RBI) to step in immediately and address the issue immediately by increasing cash supply.
The RBI, however, says there is sufficient cash in the RBI vaults and currency chests.
The banking regulator which is also responsible for monitoring printing and circulation of currency notes says printing of the notes has been ramped up in all the four currency note printing presses.
According to the RBI, the shortage may be felt in some pockets largely due to logistical issues of replenishing ATMs frequently and the re-calibration of ATMs being still underway. The RBI says it is closely monitoring both these aspects.
Get Breaking news, live coverage, and Latest News from India and around the world on NDTV.com. Catch all the Live TV action on NDTV 24x7 and NDTV India. Like us on Facebook or follow us on Twitter and Instagram for latest news and live news updates.