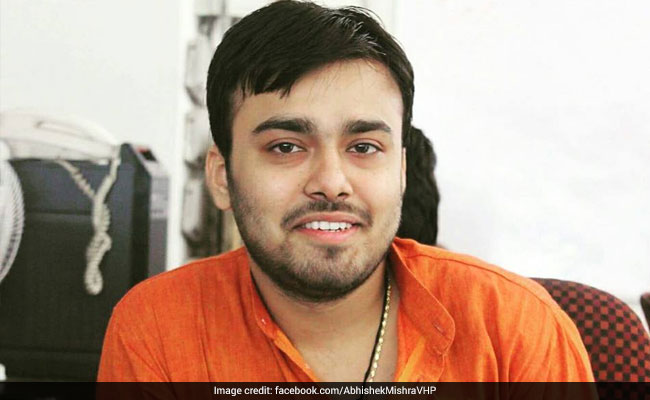 Highlights
Twitter user accused of bigotry, says it was his 'freedom of expression'
Says is member of Vishwa Hindu Parishad, followed by ministers
Ola says, like India, it is a secular platform, rejects discrimination
New Delhi:
A post by a man that he cancelled an Ola cab because the driver happened to be a Muslim, has triggered a huge debate on Twitter. Abhishek Mishra, who claims to be linked to Vishwa Hindu Parishad, has a few big names among his over 14,000 followers on Twitter -- defence minister Nirmala Sitharaman, petroleum minister Dharmendra Pradhan and minister of culture Mahesh Sharma.
On April 20, he announced that he cancelled the cab because he did not want to give money to "Jihadi People". He enclosed a screenshot of the cancellation, which showed the driver's name -- Masood Alam.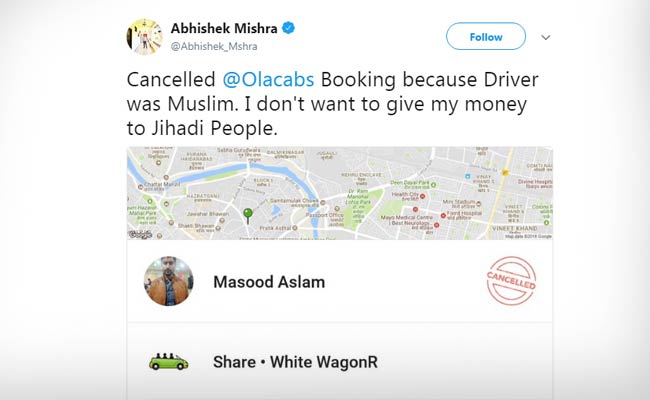 Many on Twitter asked Ola to ban Abhishek Mishra. Others said the lack of reaction from the taxicab aggregator was a message in itself. Yet others, drawing on his purported links with the Uttar Pradesh government, asked for UP Chief Minister Yogi Adityanath to take action against him.
So this bigot who cancelled Ola ride coz driver was a Muslim, is a SM consultant at Ministry of Transport, @UPGovt ! And previously was with Ministry of Commerce, GOI ! Do we expect any action by @myogiadityanath ? pic.twitter.com/v38MeCddRd

- :) (@Komal_Indian) April 22, 2018
Dear @Olacabs, if u don't believe in racial or religious discrimination of your employees, please block this moron's Ola account. https://t.co/OqhucFRNrK

- Kapil (@kapsology) April 22, 2018
@Olacabs requesting Ola to ban this guy immediately from ur passenger list and black list him or Ola should tell us they encourage this behaviour o discrimination towards their drivers. https://t.co/HyiDSQyI64

- Midhat Kidwai (@midhatkidwai) April 22, 2018
Responding to his tweet on Saturday evening, Ola cabs said, "Ola, like our country, is a secular platform, and we don't discriminate our driver partners or customers basis their caste, religion, gender or creed. We urge all our customers and driver partners to treat each other with respect at all times."
Abhishek Mishra's Facebook profile says he is from Ayodhya and works as an IT professional in Lucknow. He claims he is an active member of the Vishwa Hindu Parishad and Bajrang Dal -- both affiliates of the BJP's ideological mentor Rashtriya Swayamsevak Sangh -- and "holds responsibility" of the IT cell of the VHP.
As reactions started to pour in, he posted a second message. "People starts attack on me. Can I have no right to choose ? If they can run a campaign against Hanuman ji poster on cab, defamed Hindus and Hindus god in Kathua incident then they must be prepared for reply," this one read.
Then came a justification:
If this views acceptable then why my views are not acceptable ? pic.twitter.com/170MWQuBpn

- Abhishek Mishra (@Abhishek_Mshra) April 22, 2018
A few other Twitter users too posted tweets in his defence, describing his move as "freedom of expression" and shared screenshots of similar discrimination by other social media users.