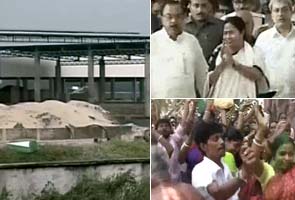 Kolkata:
The Tata Motors' appeal against the Singur verdict will come up for hearing today before a two-judge bench of the Calcutta High Court.
The Chief Justice of the Calcutta High Court had, yesterday, re-assigned the case to Justice PC Ghose and Justice Mrinal Chowdhury after another division bench released the case. Justices Kalyanjyoti Sengupta and Joymallo Bagchi released the case after the state raised questions about the jurisdiction of the court to hear the case.
The justices said they, indeed, had the jurisdiction but since the state had raised the point, they preferred to release the case.
Tata Motors is challenging the verdict of a single bench judge of the Calcutta High Court, who, in September, upheld the constitutional validity of the Singh Land Development and Rehabilitation Act that the Mamata Banerjee government passed in June.
The Tatas went to court when the state used the Act to evict them from the 900 acre plot leased to them by the Left Front government for the construction of the Nano factory.
The Tatas moved its machinery out of Singur in October 2008. However, the land remained in their possession since they have a 99 year lease.