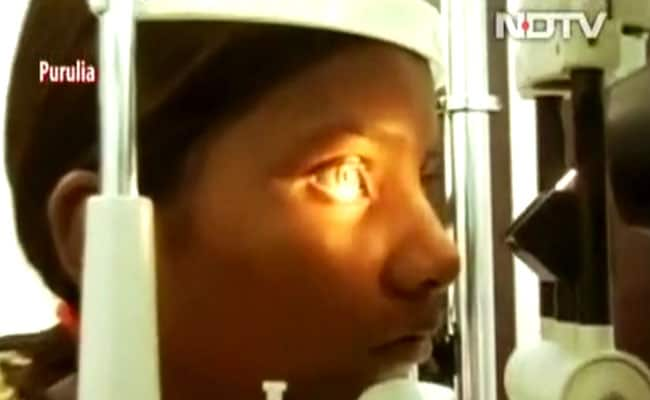 Purulia, Kolkata:
It is often said that there is light at the end of the tunnel, this is true for some in West Bengal's Jungle Mahal - once the hotbed for Maoist activity, still poor and backward, but now has one of the best eye hospitals in the state.
The Lokeshwarananda Eye Foundation, located in Para village in Purulia district is about 300 kilometres from Kolkata. The hospital, run by an NGO called Nanritam, has brought back light into thousands of lives. Treatment is free for patients from 73 Maoist-hit blocks in Purulia district.
Rupesh, a class 9 student, lost hope of reading two years ago. At first, he couldn't see at night, he then gradually lost his eyesight completely. His eyesight was however regained after he underwent a cataract surgery at the newly inagrated Lokeshwarananda Eye Foundation for free.
For Rupesh's mother, a big relief, "The treatment has really helped. Otherwise I don't know what we would have done with him. What would he do after we were gone?" said Sarswati Mahato.
Two sisters Supriya and Papia, visited the hospital from West Midnapore, 250 km away, in a desperate search for sight. Cataracts had blurred their vision and money for them was a major problem.
"My daughters got a new lease of life, if I had not brought them here, I don't know what would have happened." said Deepak Majhi, father of Supriya and Papiya.
In 1998, the much revered Swami Lokeshwarananda of the Ramakrishna Mission order, in death inspired doctors and IT professionals to setup an NGO that serves the needy with compassion.
In 2002, an eye hospital on wheels started visiting Purulia over the weekends.
"When we first came in with mobile clinics provided by Ram Krishna Mission, we realized there is a huge urgency in this rural belt. Nothing was there. No electricity no water, the people were very poor and in those days the Maoist movement was going on." said Ranjana Sengupta, founding member, Nanritam.
A six-bed mud hut hospital in 2006 is now a top notch 100 bed facility. The state gave funds to Nanritam in 2010 for service to people of the Maoist-hit areas.
Eight top doctors from Kolkata volunteer at the hospital for three-four days a week, there are also 8 full time doctors and 30 full time nurses. Last year, they saw close to 2 lakh patients.
One thing led to another, from the hospital to the school, its mission summing up Nanritam's.
"That's the idea, to give quality education in a playful manner to all children here, so that they can compete with the rest of the world, and grow up courageous and honest and compassionate also." said Dr Bharati Bakshi, another founding member, Nanritam.
For these children, C is for cat, yes. But also compassion for those who can't see and a commitment to change that.